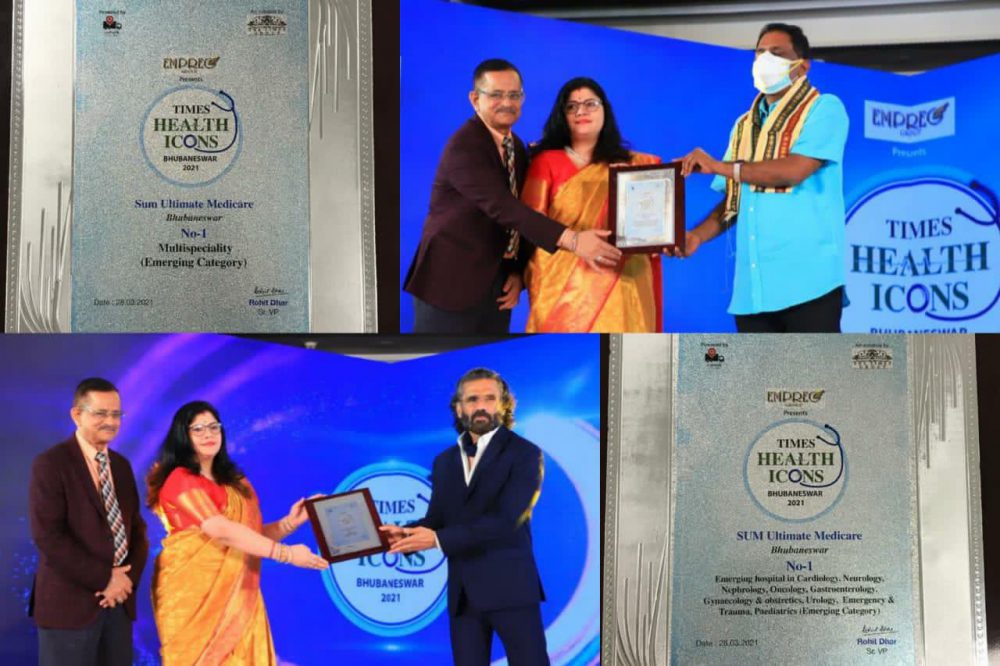 Bhubaneswar: The Institute of Medical Sciences and SUM Hospital, faculty of medicine of Siksha 'O' Anusandhan (SOA), has been chosen the number one hospital in the city in eight different departments in the Times Health Icons awards presented here on Sunday.
The hospital's departments of Gastro Sciences, Emergency and Trauma Care, Neurology, Obstetrics and Gynecology, Urology, Cosmetic and Plastic Surgery, Dermatology and In-Vitro Fertilization (IVF) and Fertility were ranked number one at the ceremony organised by the Times Group and graced by Bollywood actor Suniel Shetty.
Besides, the departments of Pediatrics, Oncology and Cardiology were placed second while Orthopedics and Nephrology were ranked third. The SUM Covid Hospital, which fought the pandemic valiantly, was presented the honour certificate at the ceremony which was attended by the Union minister for Petroleum and Natural Gas and Steel Dharmendra Pradhan and State's Health Minister Naba Kishore Das.
Several of the Covid warriors from the SUM Covid Hospital were felicitated on the occasion.
SOA Vice-Chancellor Prof. Ashok Kumar Mahapatra, Medical Superintendent of IMS and SUM Hospital Prof. Pusparaj Samantasinhar and several doctors of the hospital attended the programme.
SUM Ultimate Medicare (SUMUM), the one-stop, next generation, multi-superspecialty, quaternary care hospital which came up in the Odisha capital a year ago, has emerged as the number one hospital in the emerging category in eastern India in the Times Health Icon award ceremony.
The departments of Cardiology, Neurology, Nephrology, Oncology, Gastroenterology, Obstetrics and Gynecology, Urology, Emergency and Trauma Care and Pediatrics at SUMUM were chosen as the top departments in the emerging category.
SUMUM's Chief Executive Officer, Dr. Swetapadma Dash and Chief of Medical Services, Brig. (Dr.) Biraj Mohan Mishra were present to receive the award from Bollywood actor Suniel Shetty.
Notably, SUMUM, an initiative of Siksha 'O' Anusandhan, recently has achieved the 5 th edition National Accreditation Board for Hospital and Health Care Providers (NABH) certificate within 365 days of its inception, while the 5 th edition is yet to complete one year. The hospital, which has pocketed five different honours within the first year of its existence, also became the country's first hospital to get the NABH certificate in its 5 th edition.