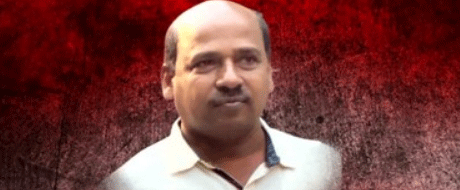 Balangir: In a major incident that hots up political atmosphere in the State, sensational Mamita Meher murder case's prime accused Gobind Sahu has allegedly committed suicide in Kantabanji sub-jail in Bolangir district on Tuesday.
Gobind Sahu has made an attempt for suicide in the jail. When he was taken to the hospital, the doctor declared him dead. This incident happened around 11 AM. An unnatural death case has been registered in this incident.
Expressing sensitivity of the case, DGP Sunil Bansal has ordered a Crime Branch probe into the death case. On the orders of DGP, a team of the CM led by DSP Bijay Mallick and three other officers has left for Kantabanji for taking over the enquiry of the case. The ten-member team of forensic and cyber experts and officials of the photo bureau of State police will assist in the investigation, sources said.
"The prime accused of Mamita Meher murder case (No 97/21) was supposed to appear in the court today. When escort team was moving to the sub-jail, we got the information that Sahoo had committed suicide," DIG, Sambalpur, Deepak Kumar told media persons.
Proper investigation will be done as per guidelines issued by the National Human Rights Commission (NHRC) and Supreme Court, Kumar said.
He said videography of post-mortem of Sahoo will be conducted and the NHRC will be intimated about the suicide within 24 hours.
Meanwhile, taking suo-motu cognizance of the case, the Odisha Human Rights Commission (OHRC) has directed the special DG of prisons and Bolangir SP to submit their reports within 15 days.
Gobind's wife Susama alleged that her husband was murdered. "He was a mentally strong person. If he wanted to commit suicide, he would have done it much earlier, not after passing of more than a year. It was pre-planned murder," she alleged.
Holding the jail administration responsible for the death of her husband, Susama also demanded a CBI probe into this case. She has lodged a complaint in Kegaon police station in this regard.
On the other hand, Opposition BJP and Congress raised questions over the alleged suicide of Sahu in the jail and demanded CBI probe to find out under which circumstances this incident happened.
Alleging Jangal Raj prevailing in the State, Odisha BJP President Samir Mohanty said, "If the jails and police stations are not a safe place, one can imagine how safe is the people in the State." The BJP leader demanded CBI probe to give justice to the family members of the victim.
BJP Mahila Morcha President Smruti Pattnaik said it sounds bizarre, but accused in high profile murder cases in which Ministers' involvements were alleged, were dying under mysterious circumstances.
Kantabanji MLA and Congress leader Santosh Singh Saluja alleged that he was said to be under tremendous mental pressure as his bail pleas were rejected by Orissa High Court. Trial of Sahu was continuing in Judicial Magistrate First Class, Kantabanji in Balangir district.
Shri Saluja demanded a CBI probe into the circumstances under which Sahu ended his life inside the jail.
From the beginning of the case, the Opposition had put the State government in the dock. During his questioning, Sahu had managed to give a police slip from a police barrack.
Following the controversy, the Orissa HC had nominated A. B. S. Naidu, a former District Judge, to monitor the investigation. The State Government had requested Orissa HC to nominate a sitting or retired judge of the High Court or a District and Sessions Judge to monitor the investigation of Mamita Meher murder case.
Mamita Meher, a resident of Tureikela block in Bolangir district, was serving as a teacher at an English medium school in Mahaling of Kalahandi district. She went missing on October 8, 2021 and police had recovered her decomposed body on October 19 from an under-construction stadium at Mahaling. She was allegedly strangulated to death by Gobinda Sahu, promoter of the school. 
The murder had triggered massive political controversy as the Opposition political parties had alleged that former MoS for Home Dibya Shankar Mishra, a close associate of Shri Sahu, was involved in the murder case.