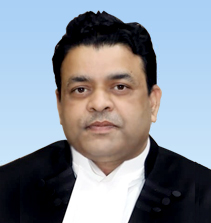 Orissa High Court Judge Justice Sanjeeb Kumar Panigrahi Saturday said that the fundamental duties are equally important as the fundamental rights and form the basis of various legislation.
Delivering his keynote address at a Teachers Traaing Programme on Fundamental Duties organized by the UGc-Ministry of Education at the National Law University Odisha here Justice Mr.Panigrahi said that the citizens are supposed to enjoy their rights and perform their duties coextensively.
Even when the fundamental duties are not enforceable, the courts have often enforced the duties indirectly by reading them in conjunction with the fundamental rights, especially Article 21 which provides for the right to life and liberty, Justice Mr.Panigrahi added.
Inaugurating the programme, Vice Chancellor National Law University Odisha Prof (Dr) YP Singh stressed upon the importance of fundamental duties in nation building and the responsibility of citizens to perform such duties.
He stated that if all the citizens of the county discharge their duties, people wouldn't be required to fight for their rights, because the rights would then be automatically taken care of.
He further emphasised on the fact that imposing sanction and penalising is not the only way of enforcing law, rather sensitising people and inculcating these duties in children from the beginning is equally important.
Senior Professor, NLUO Prof. (Dr.) Sachidhanandam pointed out the interface of the rights and duties and how both are correlative to each other.
He also deliberated on the fact that the human relationship and the relationship between humans and the state form the base for the fundamental duties which co-exist with the rights in a just and fair society.
School teachers from various schools in Cuttack- Bhubaneswar participated in the said training programme and were trained on Fundamental Duties as enshrined in the Constitution of India.
They were oriented as to how they can incorporate lessons of fundamental duties in their teaching-learning process with school children.
Training programme ended with the vote of thanks proposed by Prof (Dr) A Aruna Sri Lakshmi, Chairperson of Academic Coordination at NLUO.