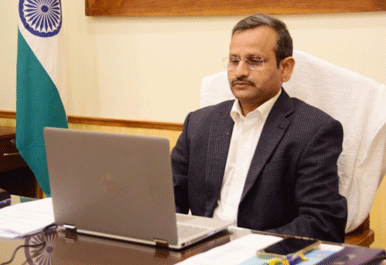 Bhubaneswar: State Government has taken serious note on Noise Pollution, which has turned out to be a menace in different areas of the State.
Taking stock of situation, Chief Secretary Suresh Chandra Mahapatra has expressed displeasure in this regard in the meeting of Environment Monitoring Cell held recently.
Accordingly the Chief Secretary has directed district magistrates and SPs to implement noise rules for maintenance of ambient air quality standards with respect to noise.
The State Government has notified the DMs and SPs and other functionaries to be the Prescribed Authorities for maintenance of ambient air quality standards in respect of noise in their respective jurisdiction.
However, it is observed that sometimes high volume music system including disk jockey (DJ) systems is played which is unbearable and no proper action is being taken in controlling the noise.
These sound systems are used to amplify sound levels, which is very harmful.
The DJ and other high decibel audio systems are major source of noise pollution in the State.
The noise rules mandate that ambient noise levels must be maintained at public places even during festivals which means the use of DJ, dolby, or any such high volume audio systems should not be allowed without any orders from the authorities, official said.
Such inaction results in increase in public resentment day by day, pointed out K Murugesan, Member Secretary State Pollution Control Board (SPCB) Odisha.
Dr.Murugesan in his letter to DMs and SPs has underscored the point that high volume noise, which is excessive in nature, causes adverse impact on health of elderly people, sick and children.
Accordingly, Dr.Murugesan, Member Secretary SPCB, Odisha has requested DMs and SPs to take proper action in this regard.
He has asked for suitable instructions to the field level officers may be issued to be more alert and effective for control of noise caused during marriage processions, religious functions, cultural programs as well as public meetings.
Dr.Murugesan has pointed out that several advisories have been issued by the State Government in this regard for enforcement of noise pollution control rules in respective jurisdiction, which may be scrupulously followed.
Further, playing of loud speaker with sound level more than 65 decibel should not be allowed.
Without approval from concerned Police Station, no one can use loud speakers and DJ systems and audio system with sound limiter shall only be allowed, urged Dr.Murugesan.
The Member Secretary SPCB categorically asked the authorities to take punitive action as per Law may be taken which would act as deterrent against the violators.
Action taken in this regard may be intimated within 'Four Weeks' for appraisal of the Chief Secretary, pointed out Dr.Murugesan in his letters to the DMs and SPs of the districts.