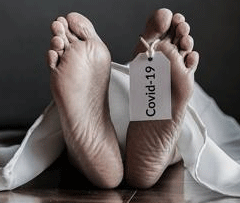 Bhubaneswar: State Government on Thursday reported death of 57 persons due to Covid-19 taking the total death toll to 4415. The deaths are officially reported today but occurred earlier.
According to the State Health Department, 10 deaths were reported from Khurda district, 5 each from Bargarh, Ganjam, Nayagarh, Puri and Sundargarh, four each from Dhenkanal, Kalahandi and Koraput districts.
Similarly, Angul and Mayurbhanj districts reported three fatalities each while one death each accounted for in the districts of Balasore, Cuttack, Deogarh and Rayagada.
"This list does not reflect deaths occurring on a particular day. It gives details of past deaths for which the death audit process has been duly completed and the cause of death has been identified as due to Covid-19," the Department said.
In the month of July, death of 397 persons due to Covid-19 has been reported so far.
On the other hand, the State has reported fresh infections of 2,542 today and the Test Positivity Rate (TPR) stood at 3.49 percent. Out of the new cases, 1,458 are from quarantine centres and 1,084 are local contact cases.
Cuttack district reported the highest 428 cases, followed by Khurda (424), Balasore (221), Kendrapara (167), Puri (150), Jajpur (139), Jagatsinghpur (128), Mayurbhanj (124) and Bhadrak (100). All remaining districts witnessed below 100 cases. Lowest two cases reported in Bolangir district.