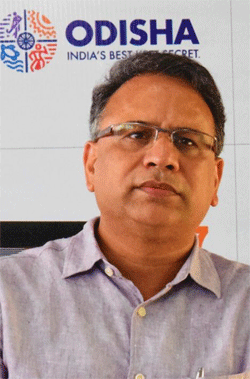 Bhubaneswar: Vishal Kumar Dev, Principal Secretary Energy & Finance is harping on adoption of eco-friendly technology rather than use of traditional fuel-based technology and he has been instrumental in formulating Electric Vehicle (EV) Policy of the State.
In fact, the Electric Vehicles are widely gaining market across the length and breadth. The automotive industry is rapidly shifting from traditional fuel-based technology to eco-friendly technologies.
In order to promote Electric Vehicles (EVs), the Department of Energy has organised an EV Expo-cum-Workshop here at the office of Engineer -In-Chief, Energy.
Different models of various EV including cars, auto, bike and cycles have been showcased. The event was organised to promote enteric vehicles and to clear doubts about EV among the buyers. The technology used in the EVs have been elaborated to the consumers during the workshop.
Officials said that the EV would not take a long time to reach the batteries and the vehicles are not so costly that one cannot afford it. People can move with a required speed in the electric vehicles and there is no need to change the batteries very frequently, the official said.
Charging stations are being opened at various places across the State so that the buyers can recharge their vehicles during travel.
Energy EIC Suresh Chandra Maharana said that EV technology is considered to be very vital as far as the environment is concerned. It offers advantages such as eco-friendliness, cheaper fuel cost, lower maintenance cost, energy efficiency and safety, he said.
Due to high pressure and fast depletion of fossil fuels, electric mobility has become necessary to reduce impact of transportation on environment and climate change, the EIC said.
The State had framed the EV Policy in 2021 with an aim for adoption of 20 per cent electric vehicles by the end of 2025 as a measure of reduction of vehicular pollution. Under the policy, the buyers can avail subsidy of Rs 5,000 to Rs 4 lakh. The buyers can visit the state transport department website to apply for it.