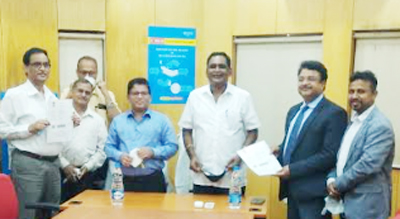 Bhubaneswar:  The State Government Thursday signed an MoU with Bangalore-based Aster CMI Hospital to start paediatrics liver transplantation at SCB Medical College Hospital at Cuttack.
The Bengaluru-based Aster CMI Hospital will set up a paediatric liver transplant unit at the SCB Medical College and Hospital (SCBMCH) in Cuttack,
The MOU was signed in the presence of state Health and Family Welfare Minister Naba Kishore Das and Principal Secretary Nikunja Bihari Dhal.
As per the agreement, Aster CMI Hospital will provide capacity building training on liver transplant to the doctors, nurses and other health personnel.
Doctors from Aster CMI Hospital will screen children at SCB Medical College, Cuttack and children who need liver transplants will be referred to Aster CMI Hospital for transplant.
The Odisha government will bear the cost and patients with BPL cards will be eligible for free transplants under this scheme.
Commenting on the MoU, Prof. (Dr.) Umakant Satapathy, Additional Director, Medical Education and Training said the ''MoU will be for the pediatric liver transplant. The Government is also processing for empanelment for adult liver transplant which will be done soon. This will help the needy people of Odisha requiring liver transplant, he said.
Aster CMI Hospital Lead Consultant – Hepatobiliary & Transplant Surgery Dr Sonal Asthana said, "Every year more than 2,000 children in India require life-saving liver transplants. Unfortunately, only 10 percent of these transplants are actually performed. With this MoU, we will be helping children to undergo liver transplant at an affordable rate, at about 20 percent to the actual cost of the transplant.