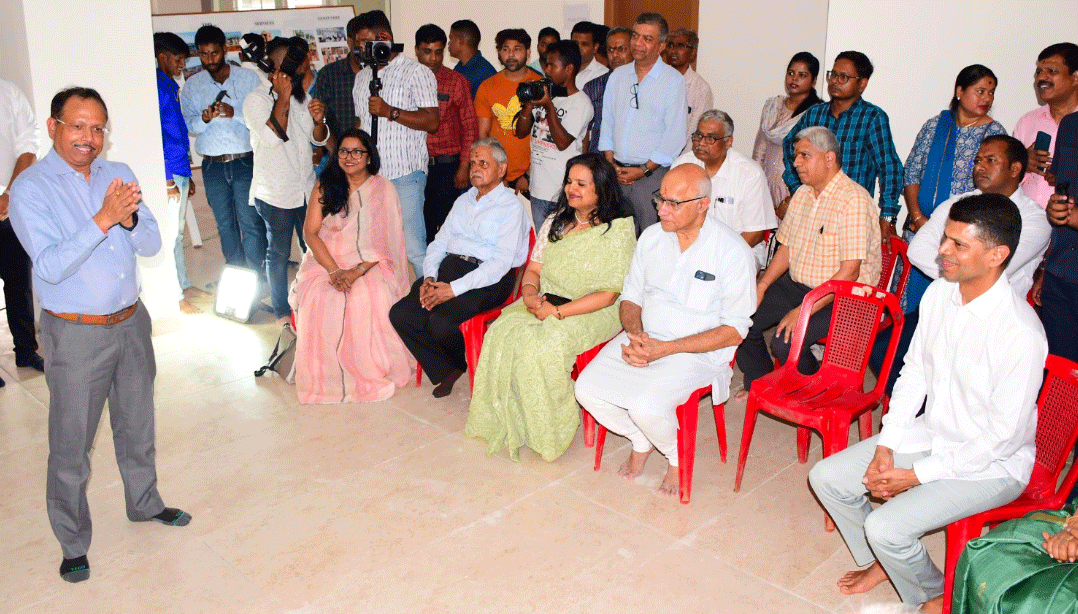 Bhubaneswar: The State Administration led by Chief Secretary Pradeep Kumar Jena visited Bagchi-Sri Shankara Cancer Hospital and Research Center here at Infovalley, on Wednesday.
Chief Secretary Shri Jena expressed his satisfaction regarding the progress made on building the hospital and assured to extend required support for early functioning of the facility.
The Team comprises Development Commissioner, Anu Garg, Chief Minister's Secretary V. Karthikeyan Pandian visited the facility on the occasion of the Gruha Pratistha Puja of the hospital.
Mission Shakti Chief Sujatha R Karthikeyan, Secretary Health & Family Welfare, Shalini Pandit, Subroto Bagchi along with his wife and Chairperson of Mo School Sushmita Bagchi were present during this visit.
Chief Secretary Shri Jena and CM Secretary Shri Pandian discussed with hospital founder Subroto Bagchi and Director Dr Sainath about the progress made on construction of the hospital and preparedness made to start the facility. They also visited different departments of the hospital.
On behalf of the hospital, Dr. Sainath informed about its preparation and said that the construction of this hospital has been completed in just one year and three months.
This has become possible due to encouragement of Chief Minister Naveen Patnaik to set up this cancer hospital and the support of the State Government, he said.
"Although initially we were reluctant to set up a cancer hospital here in view of long distance and related requirements, the Chief Minister's goal of establishing a state-of-the-art cancer hospital in Odisha and his commitment to provide health services to the people of Odisha encouraged us to come forward," Dr.Sainath said.
We got 20 acres of land without any problem. The Chief Minister ordered a 750-bed hospital here, which is about to be completed. Now, apart from the ground floor, a 6-storey building has been constructed here, he stated.
Each floor has 15,000 square feet of carpet area and this hospital has enough space for the movement of doctors, patients and their attendants.
Due to the cooperation of the State Government, architects and all quarters, the hospital is about to start successfully. Various departments like Medical Oncology, Radiation Oncology, Surgical Oncology are being set up at the hospital, he said.
Dr. Sainath said that in the coming days, cancer patients from Odisha, West Bengal, Jharkhand, Chhattisgarh and other neighbouring states will get quality healthcare from this hospital.
Shri Bagchi said, "We will admit the first patient in the hospital and start treatment from the upcoming Rath Jatra."
He informed that every care is being taken to ensure that the patients get hassle free treatment in the hospital.
He further said that it is our aim that the patients who come to this hospital for treatment should experience a temple-like environment.
Sundar Raman, the chief architect of the hospital informed about the construction of the hospital and thanked the state government and the hospital authorities for giving him this opportunity.