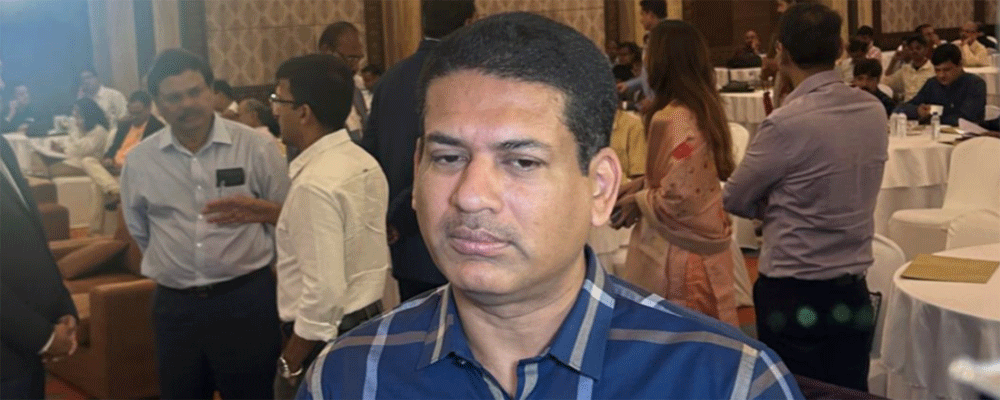 Bhubaneswar: The newly launched Foreign Trade Policy (FTP) 2023 has taken the export promotion to district level. While a decade ago, export was a grey field for district administration.
But, through the new FTP, the Government of India aims at building partnerships with State Governments and taking forward the Districts as Export Hubs (DEH) initiative to promote exports at the district-level and accelerate the development of grassroots trade ecosystem, said Director General of Foreign Trade, Santosh Sarangi here on Wednesday.
While addressing at the Export Conclave, DGFT Shri Sarangi said efforts to identify export worthy products & services and resolve concerns at the district-level will be made through an institutional mechanism – State Export Promotion Committee and District Export Promotion Committee at the State and District level, respectively.
District specific export action plans to be prepared for each district outlining the district specific strategy to promote export of identified products and services, he said.
The new policy document is based on continuity of time-tested schemes facilitating exports as well as a document which is nimble and responsive to the requirements of trade.
It is based on principles of 'trust' and 'partnership' with exporters. In the FTP 2015-20, changes were done subsequent to the initial release even without announcement of a new FTP responding dynamically to the emerging situations. Hereafter, the revisions of the FTP shall be done as and when required, he said.
Incorporating feedback from trade and industry would also be continuous to streamline processes and update FTP, from time to time, the DGFT Shri Sarangi said.
The FTP 2023 aims at process re-engineering and automation to facilitate ease of doing business for exporters. It also focuses on emerging areas like dual use high end technology items under SCOMET, facilitating e-commerce export, collaborating with States and Districts for export promotion.
Further, he said the new FTP is introducing a one-time Amnesty Scheme for exporters to close the old pending authorizations and start afresh.
The Policy encourages recognition of new towns through the Towns of Export Excellence Scheme and exporters through Status Holder Scheme.
It is also facilitating exports by streamlining the popular Advance Authorization and EPCG schemes, and enabling merchanting trade from India.
The FTP 2023 codifies implementation mechanisms in a paperless, online environment, building on earlier 'ease of doing business' initiatives. Reduction in fee structures and IT-based schemes will make it easier for MSMEs and others to access export benefits, he pointed out.
Duty exemption schemes for export production will now be implemented through Regional Offices in a rule-based IT system environment, eliminating the need for manual interface.
Four new towns, namely Faridabad, Mirzapur, Moradabad, and Varanasi, have been designated as Towns of Export Excellence (TEE) in addition to the existing 39 towns. The TEEs will have priority access to export promotion funds under the MAI scheme and will be able to avail Common Service Provider (CSP) benefits for export fulfilment under the EPCG Scheme. This addition is expected to boost the exports of handlooms, handicrafts, and carpets, he said.
Similar to the 'each one, teach one' initiative, 2-star and above status holders would be encouraged to provide trade-related training based on a model curriculum to interested individuals. This will help India build a skilled manpower pool capable of servicing a $5 Trillion economy before 2030.
E-commerce exports are a promising category that requires distinct policy interventions from traditional offline trade, he said, adding, various estimates suggest e-commerce export potential in the range of $200 to $300 billion by 2030.
FTP 2023 outlines the intent and roadmap for establishing e-commerce hubs and related elements such as payment reconciliation, book-keeping, returns policy, and export entitlements.
As a starting point, the consignment wise cap on E-Commerce exports through courier has been raised from Rs 5lakh to Rs10 lakh in the FTP 2023. Depending on the feedback of exporters, this cap will be further revised or eventually removed, Sarangi pointed out.
Integration of Courier and Postal exports with ICEGATE will enable exporters to claim benefits under FTP. The comprehensive e-commerce policy addressing the export/import ecosystem would be elaborated soon, based on the recommendations of the working committee on e-commerce exports and inter-ministerial deliberations, he added.
The DGFT informed that all types of Battery Electric Vehicles (BEV), vertical farming equipment, wastewater treatment and recycling, rainwater harvesting system and rainwater filters, and green hydrogen are added to green technology products – will now be eligible for reduced export obligation requirement under EPCG scheme
To develop India into a merchanting trade hub, the FTP 2023 has introduced provisions for merchanting trade. Merchanting trade of restricted and prohibited items under export policy would now be possible.
Finally, the government is strongly committed to reducing litigation and fostering trust-based relationships to help alleviate the issues faced by exporters.
The government is introducing a special one-time Amnesty Scheme under the FTP 2023 to address default on Export Obligations. All pending cases of the default in meeting Export Obligation (EO) of authorizations mentioned can be regularized on payment of all customs duties that were exempted in proportion to unfulfilled Export Obligation.
The interest payable is capped at 100% of these exempted duties under this scheme. However, no interest is payable on the portion of Additional Customs Duty and Special Additional Customs Duty and this is likely to provide relief to exporters as interest burden will come down substantially.