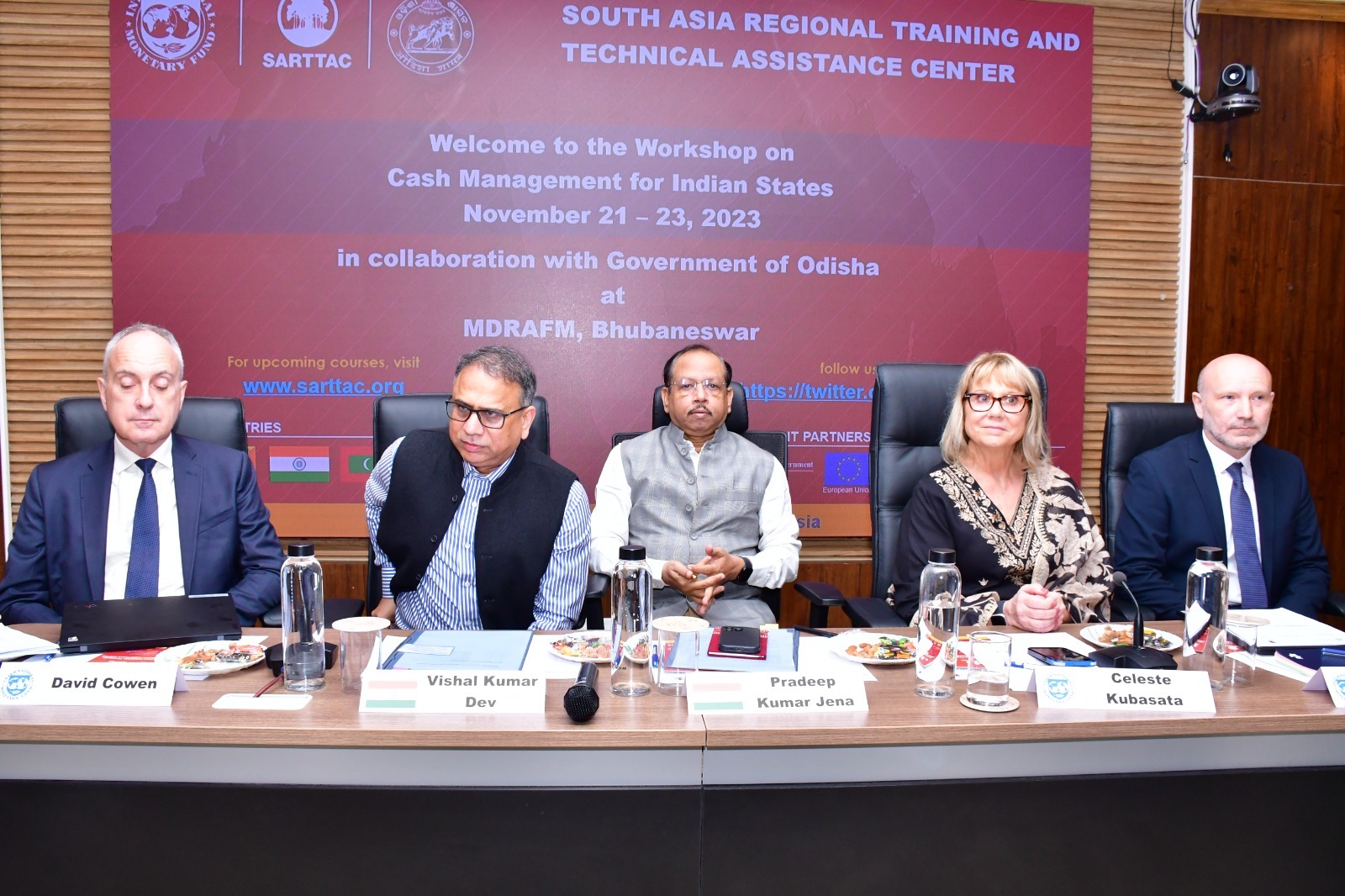 Bhubaneswar: Odisha, which is known for its fiscal management across the country, hosting a three-day Workshop on Cash Management for Indian States.
Chief Secretary Pradeep Kumar Jena today inaugurated the Workshop organized by the International Monetary Fund-South Asia Regional Training and Technical Assistance Center (IMF-SARTTAC) in collaboration with the Finance Department & Reserve Bank of India (RBI) here at Madhusudan Das Regional Institute of Financial Management. The workshop will continue till November 23.
Vishal Dev, Principal Secretary, Finance, David Cowen, Director, IMF-SARTTAC, New Delhi, Celeste Kubasta and Stephen Turnbull, Public Finance Management Advisors of IMF-SARTTAC, New Delhi were also addressed to the participants.
Selected participants from Indian States: Tamil Nadu, West Bengal, Jharkhand, Chhattisgarh and Odisha have attended the workshop. 

The objective of the cash management workshop is to ensure that the Government is able to fund its expenditure in a timely manner and meet its obligations and they fall due.
The Chief Secretary in his address to the participants stated about the development story of Odisha which is transformation one. He said this has been possible due to the rigor of discipline and prudence in managing the State Finances. Cash Management has been identified as the focus areas of the reform programme.
"We could tide over the fiscal shocks even during the Covid-19 pandemic without much impact on our fiscal targets only due to the scenarios analysis as part of the reform measures," shri Jena said. 
Principal Secretary, Finance, Vishal Dev, said, "We have been associated with the IMF-SARTTAC since mid 2018 and availing technical assistance for Public Financial Management Reforms in for broad areas like: (i) Reinforcing Budget Credibility, (ii) Fiscal Risk Management, (iii) Commitment Management & Control System, and (iv) Cash Management."
Odisha has been proactive in adopting some of the international best practices to strengthen our public finance management practices, Dev said.
Among others, Satyapriya Rath, Director (Budget), Finance Department and officers from MDRAFM were also present during the inaugural session of the workshop.