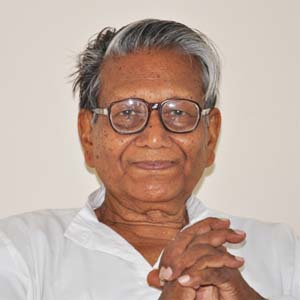 Puducherry: Chief Minister Naveen Patnaik spoke to the relatives of Late Manoj Das this evening and condoled the sad demise of the eminent writer, philosopher and educationist.
On the request of the Odisha Government, the mortal remains of Late Manoj Das was cremated with full state honours by the Puducherry Government today. Odisha Culture Minister Jyoti Prakash Panigrahi attended the funeral of Das on behalf of the State Government.
Mr.Patnaik has expressed deep grief over the death of Manoj Das.
"The immortal talent of the late Manoj Das has always been a pillar of light for the world of literature and philosophy," he said.
"Shri Das has left an indelible mark in the field of literature with his vast variety of immortal works and left a void which can never be filled. The demise of the literary doyen is an irreparable loss to the world of Odia and English literature," Patnaik's condolence message read.
Noted writer, editor and columnist Manoj Das breathed his last at a hospital in Puducherry on Tuesday. He had been under treatment at the nursing home at Sri Aurobindo Ashram in Puducherry due to old-age related ailments.