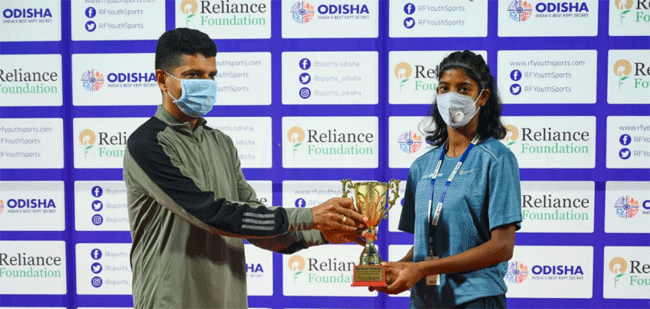 Athletes from the Reliance Foundation Odisha Athletics High Performance Centre (HPC) in Bhubaneswar registered an impressive 100 personal best (PB) timings over the four competition series that concluded at the Kalinga stadium in Bhubaneswar on Sunday, 8 November.
Secretary to Chief Minister V K Pandian honored the successful athletes in a simple ceremony. Director Sports and Youth Affairs R Vineel Krishna was also present. 
The Sprint and Middle distance fest that began on October 24 with further events on 28 & 31 October before the finale on Sunday, was contested in a uniquely designed concept of "Performance Graded Races."  
In a significant departure from practice, races at these competitions were graded entirely on timings achieved by athletes, irrespective of their age or sex. Among the standout performers at the competitions was Amlan Borgohain who consolidated his position as the top ranked 200m sprinter in India in 2020 with a PB of 21.20 seconds in the final competition on Sunday. 
In the 100m as well, Borgohain, ran a PB of 10.63 seconds, making it his sixth PB in six races over the competition series (3 each in the 100 & 200m).  
His efforts deservedly won him the Best Overall Performance Award for the entire Sprint and Middle Distance Fest.  Head Coach James Hillier, who selected Borgohain after a four-week trial in April to join the HPC, believes the competition series provided a glimpse into his tremendous potential and the 22-year old will only go from strength to strength from here.
 "Amlan's time of 21.20 in the 200m is a significant improvement on his personal best of 21.89 set prior to joining the HPC," says Hillier. "His progress has been somewhat meteoric, making huge improvements in all areas of his training over the past 7 months."  "Areas such as specific sprint training, nutrition, body fat analysis, psychology, weight training, flexibility, recovery and conditioning to name a few are looked into in incredible depth for Amlan," adds Hillier. 
"During our periodic performance assessments we established that Amlan had gained lean muscle mass whilst dropping weight and fat percentage – he was therefore pound for pound more powerful. 
It was highly structured training approach that has helped him improve so rapidly since joining the HPC." Amlan's next goal is to drop his timing to below 21 second before he can aim to represent India at the senior level. 
Another athlete who impressed during the course of the competitions was sprint hurdler Sabita Toppo, who is only 15-years old. Toppo, who hails from Sundargarh and joined the HPC in August last year, achieved four PBs in six races including three in her favoured 100m hurdles event.  
In the second race of the final competition on Sunday, Toppo clocked 14.54 seconds, and has now improved her timing by more than two seconds since coming on board at the HPC. Hillier describes Toppo as an "incredible natural talent" and "ferocious competitor." Considering her young age, the approach being adopted is for her to compete in multi-events before a possible move to the hurdles exclusively in the long term.  
Due to restrictions in place because of the Covid-19 pandemic, the four competition series was restricted to the 29 athletes from the HPC, who are split between the monitoring cohort and the academy. Athletes in the cohort are identified as being a maximum of 5 years away from winning a national level medal.
20 such athletes from all over Odisha are currently part of the monitoring cohort and reside at the Bhubaneswar state sports hostel while nine (6 from Odisha) are part of the HPC academy group and live at the Athletics HPC in the Kalinga stadium.