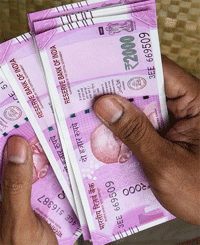 Bhubaneswar: Ahead of New Year, the State Government on Friday announced a hike of 4 percent in the Dearness Allowance (DA) and Dearness Relief (TI) for the Government employees and pensioners, with retrospective effect from 1 July, 2022.
All regular employees and pensioners, whose number would be 7.5 lakhs in the State, would be benefited from this move.
Chief Minister Naveen Patnaik has approved a proposal in this regard. The rate of DA will now be enhanced to 38 percent from the existing 34 percent.
Additional Chief Secretary (ACS) Satyabrata Sahu, who is in-charge of the Finance Department now, has issued an office memorandum to this effect.
"Now, considering the overall financial resources and fiscal target stipulated under Odisha Fiscal Responsibility and Budget Management Act, 2005, the State Government have been pleased to release the additional dose of D.A. @4% enhancing the same from the existing rate of 34% to 38% on the Basic pay with effect from 01.07.2022 in favour of State Government Employees, covered under the ORSP Rules, 2017," Shri Sahu said in the order.
All India Service Officers serving in the affairs of the State Government for which GA & PG Department will issue Orders separately, he said.
All work- charged employees, teaching & non-teaching staff of fully aided non-Government educational institutions, non-teaching staff of universities who are in receipt of regular scale of pay will receive the enhanced DA from January, 2023 onwards.
The arrear from the month of July to December, 2022 on account of the enhanced DA will not be drawn before the date of disbursement of salary of January, 2023.