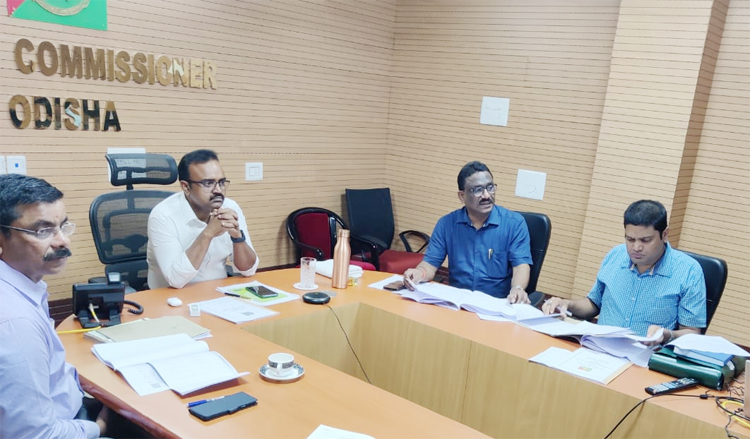 Cuttack: Ashish Kumar Singh, Commissioner of Excise, Odisha expressed happiness as the State Excise has registered a growth of 96 per cent on detection and seizure of illegal excise substances during the month of May, 2022.
The number of excise cases has been increased from 2270 in May 2021 to 4450 in May 2022, registering a growth of 96.04 per cent.
This was known from the monthly review meeting of State Excise held under the chairmanship of Commissioner of Excise, Ashish Kumar Singh.
Review made through virtual mode on Friday, wherein Deputy Commissioner of Excise (CD, Cuttack)/ Headquarter and Superintendent of Excise, Enforcement Cell were attended from different offices.
The Excise officials have registered 70 NDPS cases and arrested 84 persons in May this year while only 21 cases with arrest of 25 persons were made during May 2021.
Similarly, the seizure of Ganja has been increased from 1653 kg in May 2021 to 3277 kg in May this year, thereby registering a growth of 98.26 per cent.
The Excise officials have also seized brown sugar of weight 1050 grams in last month whereas only 230 grams of the NDPS substance was seized in May 2021.
The total value of seizure NDPS substances will be around Rs 14.50 crore in May 2022. The Directorate had seized NDPS material worth Rs 9.25 crore during May last year.
While 1839 persons were arrested on Excise cases in May '21, it has been increased to 3639 in the same month of 2022.
The seizure of ID liquor and OS liquor has increased by more than 149 per cent and 107 per cent, while seizure of country made liquor increased by 25 per cent in May 2022.
In seizure of IMFL, beer, duplicate IMFL and bhang increased by 300 per cent, 33 per cent, 22 per cent and 2442 per cent, respectively. The Excise Department has seized 178 vehicles, which were used for the illegal transportation of the excise substances during last month alone.
During first nine days of June, field officers of Excise Department have detected 1165 cases, arrested 995 persons and seized 30949 litres ID liquor, 323665 Kgs of ID wash, 130.14 litres of duplicate IMFL, 805.1 Kgs of Ganja, 255 Grams Brown Sugar, 589.39 litre Beer, 279.315 Litre IMFL, & 47 vehicles including Bikes, four wheelers & heavy Vehicles are seized. Total approximate value of seized property is Rs.2.9 crore.
On May 5, the Sambalpur Excise team and EI & EB Unit Sambalpur busted one duplicate IMFL unit in Sambalpur and seized 38 Ltrs of Duplicate Liquor IMFL, 86,233 duplicate EAL, 74,989 pieces of Corks, 2 motorcycles and arrested 7 accused persons.
On May 10, the Koraput Excise district detected one NDPS Ganja case at Dumurigada under Koraput District & seized 9 quintals Ganja, one truck & outside accused person belongs to UP.
One NDPS case was detected by IE Sadar Angul on May 31 and seized one truck (container) along with 122.5 kg of Ganja & two accused persons (both from UP) arrested.
During the meeting, the Excise Commissioner Singh appreciated the performance and achievement of the Excise officer during the last month.
He instructed all Superintendents of Excise & EI EB Units to strengthen & enhance the enforcement measures in the coming month and to conduct frequent raids against the illegal manufacturing, distributing and sale of ID Liquor/ duplicate IMFL / Non duty paid IMFL / NDPS items.