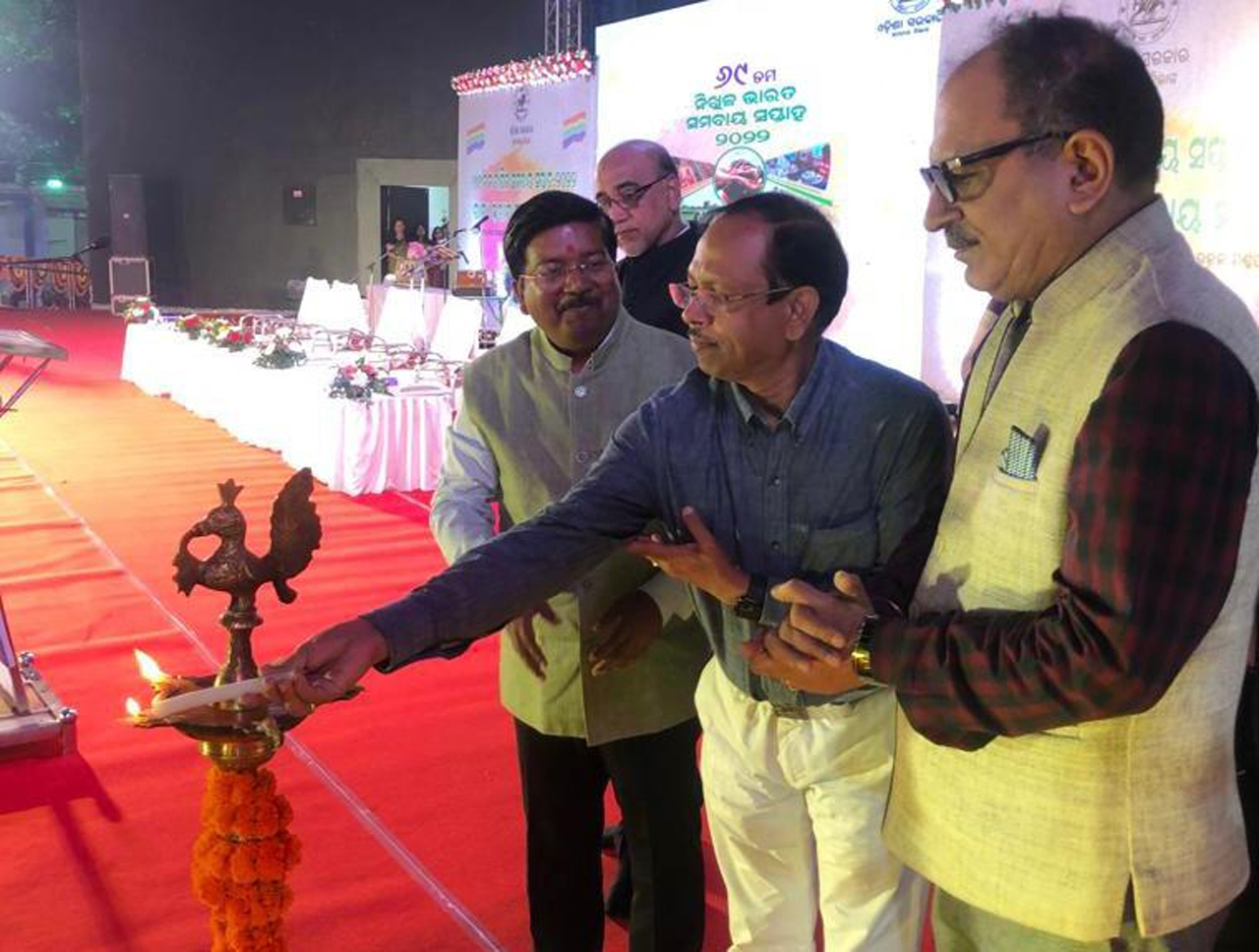 Bhuabaneswar : The 69th All India Cooperative Week'2022 is being celebrated throughout the state from 14th Nov.'2022 to 20th Nov.'2022. The celebrations provide an opportunity for Cooperatives to highlight their success stories, project their achievements and chalk out a future action plan which will provide a direction to the growth of the Cooperative movement.
The theme of this year's Cooperative Week Celebration is "India @75: Growth of Cooperatives and Future Ahead". Success stories of Co-operatives in the State like OSCB, OMFED, MARKFED, Boyanika, Utkalika etc. speak volumes on the role of cooperatives to emerge as a major sectoral economy of the State.
The Cooperation Department is celebrating the "All India Cooperative Week'2022 in State Level Function organized at Utkal Mandap.
Atanu Sabyasachi Nayakas Chief Guest inaugurated the celebration of State Level Function at Utkal Mandap in august presence of Pradeep Kumar Jena, Agriculture Production Commissioner-cum-Additional Chief Secretary, Chief Speaker, Dr. Uddhava Chandra Majhi, R.C.S, and Gopabanhu Satpathy, Managing Director, OSCB Ltd. Sanjeev Kumar Chadha, Principal Secretary to Govt., Co-operation Department presided over the function.
Chief Guest spoke on the role of Co-operatives to empower common people including vulnerable sections of the Society like women & others to have inclusive development in the Society. More than 60 Lakhs of farmers are connected with co-operative societies for getting crop loan, fertilizer, seeds etc and thereby increasing their income. About 58% of total crop loan disbursed on the State are financed by Co-operative Societies and Co-operative Banks.
To maintain transparency and to increase efficiency, 2710 Primary agricultural Societies are in the process of running online. In Handicraft and Handloom Sector, BOYANIKA and UTKALIKA have emerged as successful business model in India. OMFED has made the economic conditions of milk producers better and viable.
51 warehouses of Odisha State Warehousing Corporation have been registered by WDRA (Warehousing Development and Regulatory Authority). Procurement of Paddy, Mung, Ragi, Blackgram, Soyabeen, Groundnut and Sunflower at minimum support price are being done by Co-operatives in Odisha.
Minister highlighted that the State Government under the visionary leadership of Chief Minister Naveen Patnaik has facilitated provision of crop loan to small & marginal famers (Loans upto Rs.1.00 Lakh) at 0% interest and computerization of PACS under the 5T intervention of State Govt. which are first of its kind in the country.
The Chief Speaker, deliberated on the significant role of co-operatives in rural economy of Odisha and it has spread its branches in most of important areas like Rural Credit, Fisheries, Handloom and Handicrafts, Storage, Consumer, Housing Fertilizer, Marketing, Milk etc. 51 Regulated Market Committees are integrated with e-NAM Platforms. Technology up-gradation is happening in Co-operative Banks and PACS. PACS, RMCS, MARKFED, OSWC and other Co-operatives are providing warehousing facilities to farmers even at Panchayat and Block levels.
Shri Sanjeev Kumar Chadha, spoke on promotion of Co-operatives on Odisha including expansion of Co-operative network, Human Resource Development, technology up-gradation and diversification of co-operative activities. He stated that 10 new C.C.Bs, 200 new branches of C.C.B and 1300 new PACS will be created to cater to need of small, marginal and landless farmers of Odisha.
He further highlighted that PACS will be groomed as a "One Stop Shop" in rural Odisha. The State Co-operative Policy is being formulated to promote long term development of co-operatives in Odisha.
Chief Guest Sri Nayak handed over certificates and awards to competitors and best performers in Co-operatives. The programme ended with vote of thanks by Sri Gopabandhu Satapathy, M.D, O.S.C.B, Odisha.