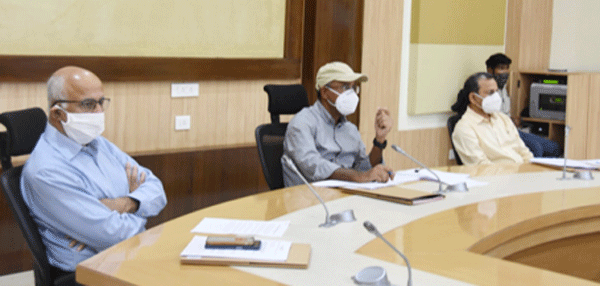 Odisha has been recognised as a Leader State in national Startup Ranking for the year 2019 at National level conducted by the Department for Promotion of Industry and International Trade(DPIIT).
The number of Start-up ventures in Odisha has grown up to 774 with employment opportunities for more than 6000 youths. This was known from State Startup Council Meeting held under the Chairmanship of Chief Secretary Asit Tripathy in State Convention hall conference room wherein Principal Secretary Micro Small and Medium Enterprises Satyabrata Sahu outlined the issues for discussion. 
Reviewing the present scenario, Chief Secretary Mr.Tripathy directed to scale up the start-up eco-system in Odisha through strategic partnership and facilitating policy intervention. He emphasized on a strong relationship of support, facilitation and handholding between the Incubators and the Startup entrepreneurs.  
Mr.Tripathy also directed to put in place an advanced Start-up Hub in the State with state of art common facilities. It was decided to complete setting up the Hub by March, 2021. It would be a centre of excellence with co-working spaces, fab-lab and common services under one roof. Further, Chief Secretary Mr.Tripathy directed to expedite the process for launching of the Fund- of-Funds for Start-ups. 
The issues relating to creation of intellectual property (IP) right registration support were discussed in the meeting. Chief Secretary directed to workout appropriate policy norms for the purpose. In course of the meeting, Chairman Skill Development Authority Subroto Bagchi , present in the meeting and Chief Secretary Mr.Tripathy interacted with one Kalahandi based Startup couple namely Ambika and Sadanada Satpathy through digital mode for knowing their progress, and, the challenges that they face.
It was known from the interaction that the entrepreneur couple working with the brand Zoo-Fresh Foods have made substantial progress; and, Evangelist of the Start-up council Prasanta Biswal is in constant touch with them. 
Mr.Bagchi shared his experiences with the couple and gave them necessary input by way forward. Participating in discussions, Development Commissioner Suresh Chandra Mohapatra said advised to make the start-up eco-system more vibrant with constant follow up and outcome assessment. Principal Secretary Mr.Sahu appraised, "The Council recognized the First Startup on 14 June, 2017. Since then because of the facilitating support, the number of recognized startups has increased to 774 including 250 women led units by November, 2020".
In the mean while, added he that , "17 Startup Incubators and 17 MEME Incobators have started functioning. More than Rs.15 crore financial assistance have been provided to 196 start-ups and incubators sponsored through 13 Nodal agencies". The meeting accorded in principle approval for providing financial assistance to 5 Startups and 4 Incubators.
The Startups considered for assistance included Awalk Innovation, Subhalaxmi Future Solution ( OPC), Sanlop Health Care Solutions, Batti Ghar Sustainable Solution, and, Xioty Solutions. 
The Incubators considered for assistance included Incovations Foundation, Berhampur; Sri Sri University Innovation, Bhubaneswar; Foundation for Technology and Business Incubation, NIT, Rourkela; and, KIIT Technology Business Incubator, Bhubaneswar. The total assistance considered for these units came around Rs.2.88 crore. 
Chief Secretary Mr.Tripathy directed to make a third party assessment of the outcomes from utilization of these grants. Two national level institutions namely Central Tool Room and Training Centre (CTRTC), Bhubaneswar and Institute of Life Science (ILS), Bhubaneswar were empanelled as Nodal Agency under Startup Odisha. Principal Secretary Science and Technology, Santosh Sarangi, Principal Secretary Finance, Ashok Kumar Meena, Secretary Skill Development and Technical Education and Chairman IDCO, Sanjay Singh, Secretary IT, Manoj Kumar Mishra along with senior officers from STPI and   TiE, Bhubaneswar participated in the deliberations. Evangelist Prasanta Biswal presented updates about various startups operating in the State.