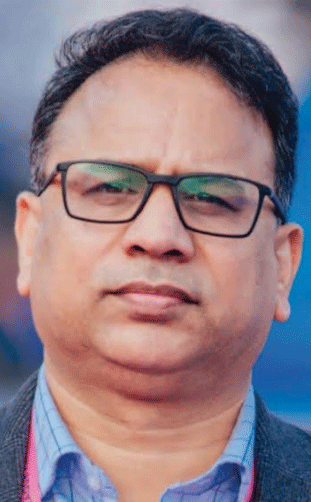 Bhubaneswar: Vishal Dev, Principal Secretary Finance has said that while Odisha Government is spending huge amount to build up a sustainable and resilient infrastructure for the State, Credit Support from the Banks are to go side by side, which will support the growth of Economy.
Mr.Dev has urged upon the Bankers in the State to extend more and more credit as downward trend of Credit-Deposit (CD) Ratio is a major concern of the State Government. Mr.Dev was speaking in the State Level Banker's Committee (SLBC) Meeting held here recently.
Principal Secretary Finance has pointed out that the Compound Annual Growth Rate (CAGR) of CD Ratio over the period of five years from 2015-16 to 2020-21 is Minus Four Percent. He pointed out that the CAGR of total deposit of the State over last five years is 12 Percent, whereas the CAGR of Credit Utilized in the state is only 6 Percent.
So it is highly required to bridge the gap in growth rate between the Deposit and Credit. The CD Ratio of the State was 62.20 Percent as on March 2021, urged Mr.Dev.
He underscored the importance of the responsibility for increasing their CD Ratio should be taken by Banks, Lead Banks and District Administration jointly.
Mr.Dev advised the Banks to achieve a CD Ratio of 60 Percent in respect of their rural and semi-urban branches separately, adding the banks should ensure that wide disparity in Ratios between different districts is avoided in order to minimize regional imbalance in credit deployment.
Principal Secretary Finance has pointed out that Credit Dispensation in certain districts is very low, as a result of various factors such as lack of necessary infrastructure, varying ability of different regions to absorb credit.
According to Reserve Bank of India (RBI) Districts with Per Capita Priority Sector lending of less than Rs.6000 are classified as Credit Starved Districts.
Six Districts of Odisha like Gajapati, Kandhamal, Kendrapara, Malkangiri, Nuapada and Nabarangpur are Credit Starved Districts. Here roles of all stakeholders including banks become very important.
Mr.Dev said there is an urgent need to adopt a holistic approach through comprehensive interventions to enhance Ground Level Credit Flow (GLCF) by focusing on Credit Starved Districts.
He also stressed on more credit flow for Aspirational Districts, which backward on various count and these districts are constrained by various physical, economic and social characteristics.
Due to Covid-19 Indian Economy contracted by 7.7 Percent during 2020-21, while Odisha economy is contracted by 4.9 Percent during the same period, experts point out.
As Covid-19 has severely impacted the economies all over the globe, country and the state, resulting severe contraction of economy, there is huge potential for infusion of more credit to hasten the process of development and ensure social justice, pointed out Mr.Dev.