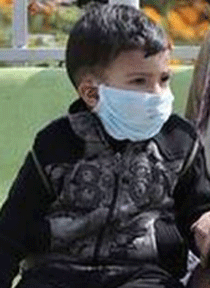 Bhubaneswar: With many children getting affected by COVID-19, all children above two years have been advised to wear masks.
Indian Academy of Pediatrics has advised for use of masks by children before stepping out of their houses and parents are asked to ensure it.
Newer symptoms such as diarrhea, vomiting, stomach pain etc in addition to the earlier symptoms of cold, cough, fever, loss of smell, taste, poor feeding in infants and any other medically indicated conditions in children, pregnant and lactating women and adolescents may be considered for suspecting COVID-19.
Persons belonging to any age including children having any symptoms of COVID-19 must go for testing, isolation and medical advice as per World health Organization (WHO) Guidelines.
With many children are getting affected during the Second Wave of COVID-19 Pandemic, Department of Health &Family Welfare has advised Department of Women & Child Development to issue fresh advisory while including several important points.
ACS Health & Family Welfare PK Mohapatra has issued directive in this regard, while advising the Principal Secretary of Department of Women and Children to incorporate the above advisory in view of children are affected due to second wave of COVID-19 Pandemic.
The Ministry of Health & family Welfare has issued Protocol of management of COVID-19 in Pediatric age group, which are needed to be adopted and implemented, said the ACS Health.