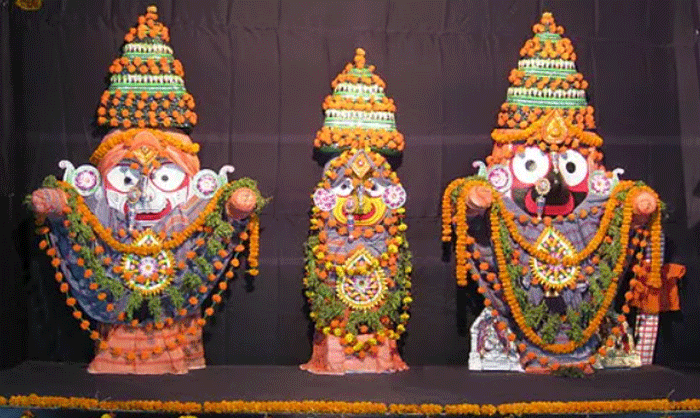 Puri: Preparedness is going in full swing for observation of a special ritual at Shree Jagannath Temple here for Makar Sankranti tomorrow.
For the Makar Vesha of the Trinity, Bada Odia Matha is preparing garlands made of different flowers and Basil leaves. The garlands will be served to the Lords.
Usually, thousands of devotees throng the temple for 'Darshan' of the sibling deities and to partake in Makar Chaula. However, the temple has been closed for the devotees since 10 January due to rise in Covid infection in the State.
The sibling deities at Shree Jagannath temple here will be decked up in the special Makar Chaurasi Besha on Friday.
As part of the special rituals for the auspicious day, the Mangalalati and Abakasha Niti (rituals) will also be performed at the shrine.
Then the sibling deities will be dressed in Makara-chula (a sort of head-gear) Besha. Following these rituals, Gopalaballabha and Sakala Dhupa will be offered to the deities.
Again the deities were attired with ornaments as part of the Makar Chaurasi Besha before giving 'Darshan' to the devotees.
For the special Makar Chaula Prasad for deities, five Makara Tadas will be given by Shree Alamchandi temple to Shree Jagannath temple this night.
Notably, Makar Chaula is the special Prasad for Makar Sankranti. It is prepared in every temple and Odia household. The rice used is preferably from the fresh harvest. There are slight variations in the ingredients depending on the regions where it is prepared.
In Odisha, people prepare Makar Chaula with uncooked newly-harvested rice, banana, coconut, jaggery, sesame, rasagola, khai/liaa and chhena puddings for 'naivedya' (offering) to Gods and Goddesses.