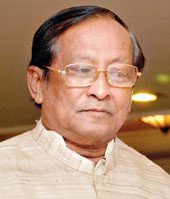 Bhubaneswar: Odisha Legislative Assembly Speaker Surjya Narayan Patro Sunday said the Lawmaker should apologies as he violated rules and procedures of the House.  
Speaker Mr.Patro's assertion is considered significant as the Governing BJD has already announced that it would not allow the House to function unless BJP Lawmaker from Deogarh Subhas Panigrahi does not tender apology for his act of attempting suicide in the House.
The Speaker also said that since the Deogarh Lawmaker has committed a mistake, he should not hesitate to apologies in the House.
Mr.Panigrahi's apology will bring back normalcy in the House which is need of the hour, he said.
However, the Speaker said: "It depends on the BJP to decide the further course of action".
Mr.Patro said that there is a specific set of rules adhering to which the House runs. One who deviates from that rule will be deemed as violating it.
BJP Lawmaker Mr.Panigrahi, however, rejected the BJD's demand and said: I will tender apology only if the Chief Minister do so for putting farmers in trouble due to mismanagement if paddy procurement."
Earlier, BJP Chief Whip Mohan Majhi had made it clear that there is no question of Mr.Panigrahi tendering apology. "He (Speaker) has the power to suspend the member. Let him so so. Above all, Mr.Panigrahi acted in this manner as farmers in his constituency were threatening to commit suicide for not being able to sell their paddy in the government mandis."
Mr.Panigrahi on Friday had attempted to commit suicide by consuming sanitizer in protest against the government's alleged apathy towards farmers who face difficulties in disposing their produces in mandis due to faulty policy of the state government.
Senior Congress MLA Suresh Kumar Routray said making suicide bid over an issue inside the House is irresponsible. "Making demand for an apology by BJD is also laughable," he said.
Senior BJD Leader Snehangini Churia said: "Making suicide bid is itself a criminal act. And making such attempt in the Assembly is considered more serious. This has brought bad name for the state. Therefore, Mr.Panigrahi should make conditional apology over his act."
The proceeding of the Odisha Legislative Assembly on Saturday was completely washed away due to the pandemonium in the House as the BJD members demanded apology from Mr.Panigrahi while the BJP and Congress MLAs sought immediate action to lift all the paddy from farmers waiting to sell their produces across the state.
Unable to run the House, Speaker Mr.Patro had adjourned the proceeding on Saturday till 10.30 am on Monday.