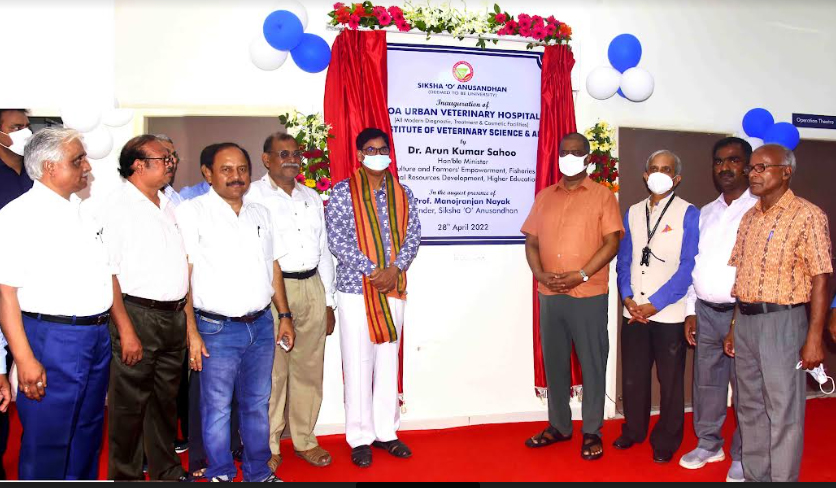 Bhubaneswar: Odisha's first privately -run veterinary hospital for domestic and stray animals and birds was inaugurated here on Thursday.
The hospital, which has been set up by the Institute of Veterinary Sciences and Animal Husbandry of Siksha 'O' Anusandhan (SOA) at Shanpur on the outskirts of Bhubaneswar, was inaugurated by Dr. Arun Kumar Sahu, state's minister for agriculture, farmers' empowerment and animal resources in the presence of SOA's Founder President Prof. (Dr.) Manojranjan Nayak.
The clinic, which has departments of gynaecology, medicine and surgery will have experienced vets to treat animals and birds, Prof. Brahmadeb Patnaik, Dean of the Institute of Veterinary Sciences and AH, said.
The clinic, which also has a pharmacy, laboratory and operation theatre, will function round the clock, it's Director Dr. D. N. Paul said.
A stray monkey, which arrived on the scene as the centre was being inaugurated, was the focus of attention of all present. "We will examine the animal and provide any treatment it requires," Prof. Patnaik said.
The hospital will have a Spa for animals, he said.
SOA's Vice-chancellor Prof. Ashok Kumar Mahapatra, Registrar, Prof. Bibhuti Bhushan Pradhan, Dean (Students' Welfare), Prof. Jyoti Ranjan Das, Debendra Suar among others, were present during the inauguration.