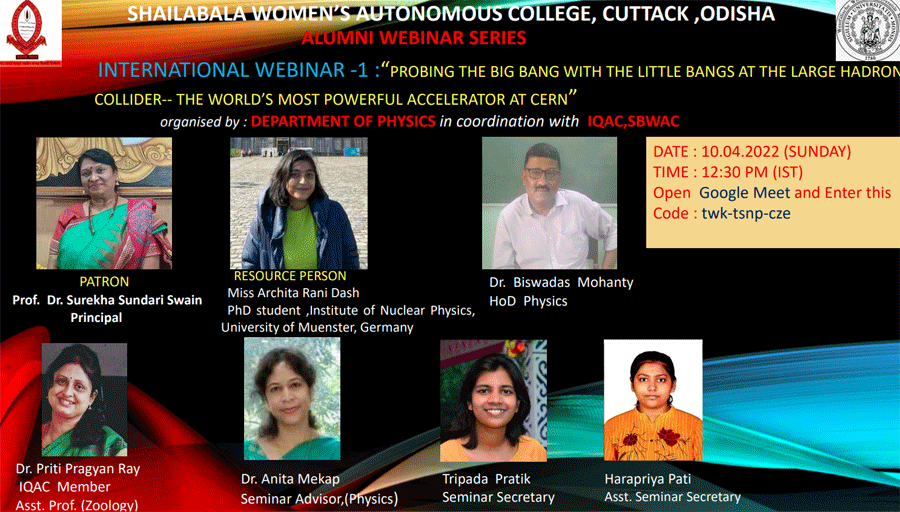 Cuttack: At a time when there is a rush for engineering, medical and management studies to shape career of youngsters, here is a glaring instance of a girl from a small town in Western Odisha making her own destiny through general science abroad.

Take the instance of Architarani Dash, while participating in the second international Alumni Webinar of the Alumni webinar series held by the department of Physics of Shailabala Women's Autonomous College, climbed the career graph in general science.

The girl from Jharsuguda town in Odisha, while attending the Webinar deliberated on research opportunities in Germany sharing her journey so far starting as an undergraduate student in Physics honours at SB Women's Autonomous College to doing Masters at VIT and finally joining as a PhD student in Experimental High Energy Nuclear Physics at Institute of Nuclear Physics, Munster University , Germany.

Archita narrated how she forayed into experimental research and gave helpful tips to students who want to pursue research in Europe especially in Germany. She advised on the importance of building a strong CV, recommendations from mentors, proficiency in language and how it helps in selection process in availing scholarship.

She further elaborated that the opportunities for higher studies and research in science are immensely high and promising for the present and the future generations in Europe and especially in Germany as it being one of the best choices to pursue a scientific research career with high end scientific and technology based research facilities, infrastructure and promising funding sources.

In a the Webinar, presided over by SB Women's College Principal and Professor Dr. Surekha Sundari Swain, Archita said various opportunities in research after completing Bachelors in Science include pursing 'MS by Research' degree, one example of this is the "The Erasmus Programme by European Union", which is a mobile Masters programme where the student gets the opportunity to visit various eminent research institutions/ universities in Europe during the course of his/her Master studies and is able to work on various research topics as a part of the program.

One can also work as a Research Associate in R&D laboratories or Research Institutions after doing Masters. Besides this in Germany, various R&D labs are actively seeking for R&D consultant positions, she said adding that working in different corporate research firms/ industries is another such option after having a Masters degree.

In some cases, even a candidate with an extraordinary Bachelors degree with good research experiences during the Bachelors is also a good substitute for a Master candidate for such job roles. One highlight of her talk is that after Masters one can pursue his/her research career by doing a PhD and with additional Post Doctoral experiences make one's research career even more promising when it comes to working as a scientist in the world-class scientific laboratories such as CERN, ESO, NASA, etc.

After a PhD, one also has the possibility of entering into academia. Besides, PhD acts as a promising qualification for various industries seeking research experts with well paid salaries. She further said that though scopes for a scientific research career after Bachelor studies is promising unfortunately not many are aware of the possibilities and majority are even scared to take the risk of exploring/ availing these sophisticated yet beautiful fields of research.

Finally she encouraged everyone to take up the risk, sharing how she learned from her several failures and rejections because of which she is presently exploring the magical world of science and research instead of following the mainstream herd blindly, she concluded her talk by saying that she would one day make a difference in the society.

Dr Biswadas Mohanty, Head of the Department of Physics gave the guest introduction while Dr. Pritipragyan Roy, member IQAC delivered the welcome address.

Seminar Secretary Tripada Pratik moderated the webinar. Dr. Anita Mekap. Kiranmayee Sahoo, Assistant seminar secretary Miss Harapriya Sahoo and other Staff members assisted in smooth conduct of the webinar. At the end, Megha Kamilya proposed vote of thanks.