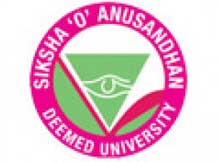 Bhubaneswar: A five-day AICTE sponsored Training and Learning (ATAL) faculty development program on 'Contemporary Technologies for Sustainable Road Construction' concluded at the Siksha 'O' Anusandhan (SOA) here this week.
The ATAL FDP program, aimed at imparting quality technical education in the country and support technical institutions in fostering research, innovation and entrepreneurship through training in emerging areas, was held under the auspices of Institute of Technical Education and Research (ITER), SOA's faculty of engineering and technology.
Altogether 124 participants from across the country joined the virtual program comprising 14 technical sessions to create awareness and make them conversant with sustainable road construction techniques.
Prof. Manoranjan Parida from IIT-Roorkee, Prof. G.R.Dodagoudar from IIT-Madras, Dr. Dharamveer Singh from IIT-Bombay, Prof. Mahabir Panda from NIT-Rourkela, Prof. Debakanta Mishra from Oklahoma State University, USA, Dr. Umesh Chandra Sahoo from IIT-Bhubaneswar, Dr. Bharat Rajan from IIT-Bombay, Dr. Ankit Gupta from IIT-BHU, Dr. Nikhil Sahoo from IIT-Roorkee, Dr. Vishal R. Thombare from MCGM, Mumbai, Mr. P.Guru Raj from Afcons Infra, Dr. Ayyanna Jabal from PDEU, Dr. Aditya Kumar Das from SOA and Dr. Prabin K. Ashish from Hong Kong Poly University were among the resource persons.
The program was inaugurated by SOA Pro-Vice Chancellor Prof. P.K.Nanda, Registrar Prof. B.B.Pradhan, Dean ITER Prof. P.K.Sahoo and Head of Civil Engineering department at SOA Prof Manas Ranjan Das.
Dr. Nanda Nandan Das, former Engineer-in-Chief cum Secretary of the Works Department, Government of Odisha, was the chief guest at the inaugural function. The valedictory function was addressed by SOA Pro-Vice Chancellor Prof. Nanda, Dean ITER Prof. P.K.Sahoo and Prof. Manas Ranjan Das.