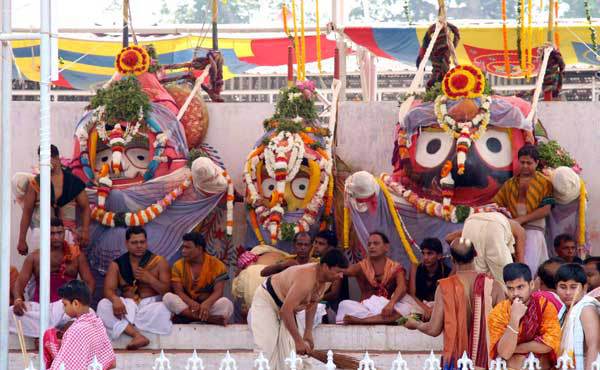 Puri: After a gap of two years, the devotees can have darshan of Lord Jagannath and his siblings on Snana Purnima.
This decision was taken at the meeting of Jagannath Temple Management Committee held under the chairmanship of Puri King Gajapati Maharaja Dibyasingha Deb here on Tuesday.
Notably, the devotees were barred from having darshan of their beloved Lord Jagannath and his siblings for two consecutive years on account of Covid-19 pandemic.
This year, the devotees will be allowed to get a glimpse of Hati Besa of the Lords after the ceremonial bath at Snana Mandap. About three hours will be for the devotees to witness the Lords. However, the devotees cannot touch the deities at Snana Mandap.
Speaking to reporters after the meeting, Chief Administrator of Shree Jagannath Temple Administration (SJTA), VV Yadav said, "The Committee has approved the minutes of the last two meetings held in April. The schedule for different rituals (Niti Nirghanta) and Byabasthbali starting from Snana Purnima to Niladri Bije was approved in the meeting."
All arrangements are being made so that devotees can avail smooth darshan of the Lords during the Snana Purnima and all other ritual time, when devotees were allowed during earlier years, the Chief Administrator said.
Besides, a detailed discussion was held on registration of a society for formation of Gurukul for the children of Sevayats. An MoU will be signed with Birla Foundation for this purpose, he said.
Meanwhile, the construction of chariots for the Car Festival is going on full swing. The most-awaited ritual of the Akha-Chaka Dera was completed on Bada Danda.
The main central wheel and axle system called Nahaka Chaka and Nahaka Akha are fixed with each other. The installation of this part will help build the other portions of the chariots.
As per tradition, the Chaka-Akha Dera ritual which means the fixing of two wheels and an axle of each chariot of Lord Balabhadra, Jagannath, and Devi Subhadra is conducted on the occasion of Bhaunri Jatra, the last day of the Bahara Chandan Jatra of the deities.
After the conclusion of the Bahara Chandan Yatra, the remaining 21 days of the Bhitara Chandan Jatra will be completed inside the premises of Shree Jagannath Temple.