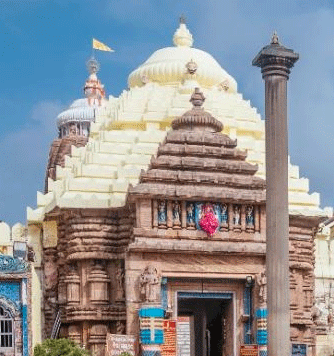 Puri: For silver cladding of the Kalahata gate of Shree Jagannath temple here, 500 Kilogram (KG) of silver stored in the District Treasury has been shifted to Neeladri Bhakata Niwas under tight security on Saturday.
The work for construction of silver cladding plates for the Kalahata Dwara will be completed within this month end.
So, work inside the temple or installation of silver cladding on the Kalahata Dwara will be done during the upcoming Rath Jatra when the Trinity will be on a nine-day visit to Gundicha temple, said Temple Administrator (Development), Ajay Jena.
"The silver cladding of Kalahata dwara will be completed during the Rath Jatra period (July 2 to 11) as per the wish of Lord Jagannath," Mr.Jena said.
He also informed that silver cladding of eight doors have already completed last year. A devotee had donated silver for Surya Mandir, one of the eight doors.
Earlier on November 26 last year, the precious metal was shifted from the strong room to the treasury house as per the order of Puri District Collector.
Silver sheets with intricate designs have been installed on the gigantic seven wooden doors- Jay Bijaya Dwara, Beheran Dwara, Satapahach Dwara, West Bhog Mandap Dwara, Adi Narasingh Temple Dwara, Bimala Temple Dwara and Mahalaxmi Temple Dwara.
Nearly two tonnes of silver have been used for the silver cladding work at Puri Shree Jagannath temple. A devotee from Mumbai has donated around 1300 KG of silver for the purpose.