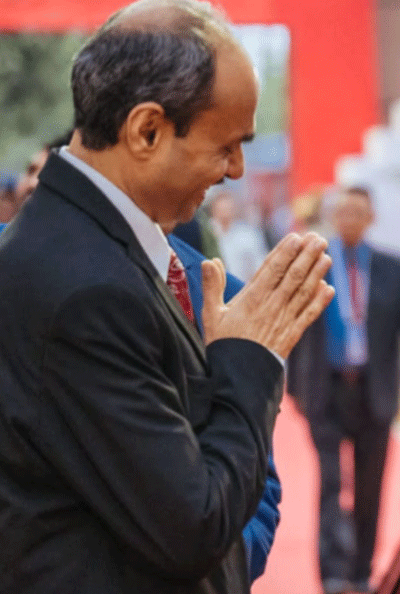 Bhubaneswar: On the first day of the Make in Odisha Conclave, the State Government has received 145 investment intents worth Rs 7.26 lakh crore on various sectors.
This amount is more than the investment proposal the State Government had received in the first two editions of the MIO Conclave held in 2016 and 2018.
All credit goes to Industries Principal Secretary Hemant Kumar Sharma, a 'Man of Commitment', who made the Conclave useful on the beginning day itself.
Briefing media persons here in the evening, Principal Secretary Mr. Sharma said the state has received 145 formal investment intends worth Rs 7,26,128.45 crore, which would provide employment for 3,20,741 persons.
While 46 investment intent forms worth Rs 5.85 lakh crore have been received from the investors at the Make in Odisha Conclave, he said.
Similarly, 78 industrialists, who have shown interest to invest in Odisha during roadshows organised at various locations prior to the Conclave, have submitted their formal proposal to the state government today. The total investment amount of this category stands at Rs 1.40 lakh crore, Mr. Sharma said.
On Thursday, the State Government has signed 21 investment related MoUs while several non-investment related MoUs were also signed, he informed.
The Principal Secretary also said Conclave today witnessed the presence of global leaders, 54 industry captains, 12,000 individual registrations, 212 exhibitors, participants from 11 countries and several industry leaders at the two plenary sessions and eight sectorial sessions.
The day began with a high-powered breakfast meeting hosted by the Chief Minister Naveen Patnaik for 40 select top industry leaders and four international diplomats.
For the first time in any state investors' conclave, five financial institutions attended an investment summit which included BSE, NSE, SBI, SIDBI and IFC of the Workld Bank Group. Two MoUs were also signed with BSE and NSE, and Government of Odisha for assisting the MSMEs of the state to get listed on the MSME exchange of BSE, he stated.
Partner countries and diplomats – Hiroshi Suzuki, Ambassador of Japan to India, Hans Jacob Frydenlund, Ambassador of Norway to India, Dr Shankar Prasad Sharma, Ambassador of Nepal to India and Mr. Manfred Auster, Counsel General, Consul General, Consulate of Federal Republic of Germany in Kolkata were present at the plenary session held today.
Making a strong powerful presentation before the big industrial captains here, the Industries Principal Secretary has presented the entire State, its natural resources, infrastructure and other facilities available for the investors in the State.
He said the investors will get 10 acres of land in 10 days, 30 acres of land in 30 days and 100 acres of land in 100 days. The State has a very strong economy and is financially stable. The budget of Odisha has been enhanced from Rs 18,516 crore in 2000 to Rs 2 lakh crore this year, Mr Sharma said.
The State is politically stable, financially strong, economically resilient and socially secure, he said.
After a strong presentation, he made a beautiful video on the opportunities available for the investors in the State.
After going through the presentation, all the industrial leaders present at the dais praised Mr Sharma.
Even one industrialist praised Mr Sharma saying his speech was not less than a visionary political personality. All have thanked him for successfully organizing the Conclave with bringing almost all top industrialists of India under one roof.
The hardworking Mandarin has been working very seriously and putting all out efforts to bring more and more investors to the State. For which he had organized a series of roadshows in several places including New Delhi, Mumbai, Bengaluru, and Hyderabad in India as well as in Dubai.