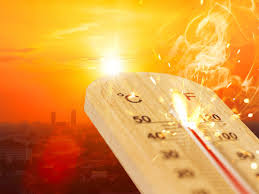 Bhubaneswar: Severe heatwave conditions continued to prevail in 17 places in the State, including State Capital Bhubaneswar recording temperature above 40 degrees Celsius.
The State Capital, recorded the highest maximum temperature at 43.6 degrees Celsius.
According to the Regional Meteorological Centre, Boudh reported 42.5 degrees Celsius followed by Baripada at 42.4, Titlagarh at 42, Jharsuguda at 41.8, Sambalpur and Nayagarh at 41.5 each.
Bolangir recorded 41.2 degrees Celsius, Talcher at 41.1, Sundargarh and Sonepur at 41 each, Angul and Balasore at 40.9 each, Cuttack at 40.8, Bhawanipatna at 40.6, Hirakud 40.3 and Malkangiri at 40.
Meanwhile, the IMD has issued heat wave warning for three districts in the next 24 hours.
It advised the people of Nayagarh, Cuttack and Khurda districts to take precautionary measures while going outside during noon -between 11 am and 3 pm-and keep the infants, elderly and sick people indoors during the period.
It also said that due to the weakening of a cyclonic circulation over south Odisha and neighbourhood, the maximum day temperature will rise by 3-5 degree Celsius at a few places over the coastal districts during next 48 hours and 2-3 degree Celsius at many places over the interior districts during next 2-3 days.
However, the temperature will fall gradually by 2-3 degrees mostly in the south coastal and north and north coastal districts from April 27 as a trough from Jharkhand to southeast Madhya Pradesh across north Chhattisgarh will trigger thunderstorm and lightning which will continue for three days up to April 27.
The IMD predicted 44 degrees (maximum daytime temprature) on Monday.
"Heat is tolerable for general public but moderate health concern for vulnerable people (infant, elderly and sick people). It is advised to take precautionary measures for hot weather while going outside during noontime (around 11 am to 3 pm in these areas)," the IMD stated.
The yellow warning has been issued for Malkangiri, Koraput, Rayagada, Gajapati, Kandhamal, Keonjhar and Mayurbhanj on Tuesday, Malkangiri, Koraput, Rayagada, Gajapati, Ganjam, Kandhamal, Nayagarh, Boudh, Keonjhar, Mayurbhanj and Balasore on Wednesday, Balasore, Bhadrak, Jajpur, Kendrapada, Cuttack, Jagatsinghpur, Khurda, Nayagarh, Angul, Dhenkanal, Mayurbhanj, Keonjhar, Kandhamal, Gajapati, Ganjam, Rayagada, Koraput and Malkangiri on Thursday.