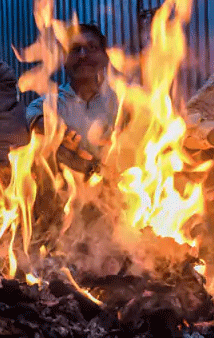 Bhubaneswar: Special Relief Commissioner (SRC) has issued advisory to the districts authorities in view of the severe cold wave forecast of the Indian Meteorological Department across the State.
The advisory issued to the Collectors, SPs and Municipal Commissioners for undertaking necessary steps.
The IMD predicted isolated cold wave to severe cold wave condition and dense fog very likely to prevail over certain districts.
The SRC's advisory with respect to the dense fog forecast asked the police and transport officials of the respective districts to take necessary steps for controlled plying of vehicles on highways during dense fog to avoid any road accident.
As per the IMD, Angul, Boudh, Nayagarh, Cuttack, Khordha, Puri and Kandhamal districts will experience dense fog from Thursday night and Friday morning.
The SRC advised the Collectors and Municipal authorities of Sundargarh and Jharsuguda to take the requisite measures for cold wave.
It asked the people have been advised to stay indoors during night and avoid exposure to cold and said necessary precautions be taken for the livestock.
It advised against movement during night on two-wheelers or in open cars and take necessary safety measures while using electrical and gas heating devices or fire.
The Collectors have been asked to ensure that school buildings, community buildings and other available buildings are opened for use of shelter during night by the homeless and needy people.
A report indicating the number of such buildings used as night shelters and number of people sheltered therein be sent to the SRC office here on daily basis till the cold wave situation is over.
The SRC office has asked to make the necessary arrangements in both the rural and urban areas.