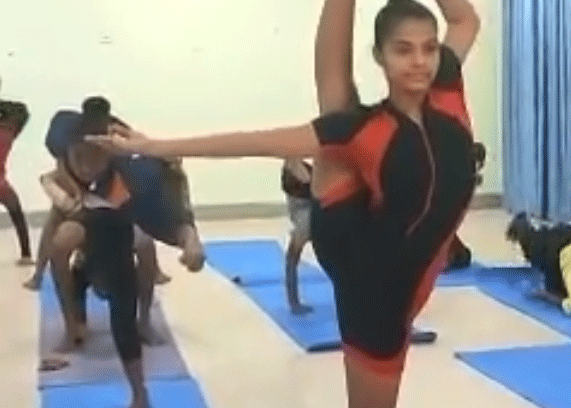 Bhubaneswar: Secretary Sports and Youth Services R Vineel Krishna has identified an amazing talented girl from Puri, which he has shared through his twitter handle.
Mr Krishna has shared a small video clipping where the girl is performing yoga. "Amazing talent identified during the Yoga camp organized in Puri," he tweeted.
In that small 45 second video, the girl is doing yoga in such a way that one will be surprised whether she has bones in her body or not.
The video astonished many people in the Twitter and became a topic for discussion when the whole India is looking after Odisha for creating world-class infrastructure for sports and supporting Indian hockey teams.
One of his followers said, "Really amazing, superb talents, reminds me of public display of yogic asanas done by me in Puri way back in 1970 to 1972 though these children r far ahead n superior."
Another person suggested the Sports Secretary to get her a chance in SAI to learn gymnastics. "Sir give her a chance to learn gymnastics in SAI or any other academy. Never know we may get an Olympian one day," he said in Twitter.
Prabhat Kumar Rout requested Mr Krishna to focus on gymnastics also for future.
The State of Odisha, which is nowadays called as Sports Capital of India has become a talking point not only in India but also aboard for sponsoring Indian hockey teams, which brought glory for India at the recently concluded Tokyo Olympics.
After focusing on outdoor sports like hockey, football, cricket, etc, the State Government has now taken steps for promotion of indoor sports.
Last Monday, the State Cabinet had decided to construct 89 multipurpose indoor stadiums at different urban areas of Odisha with an investment of Rs 693.35 crore.
The 89 Multi-Purpose Biju Patnaik Indoor Stadium at a total project cost of Rs 693.35 crore to be completed over next 18 months. The stadiums will come up at three municipal corporations (Bhubaneswar, Cuttack and Rourkela), 30 municipalities and 52 NACs.
The stadiums will have facilities for playing Badminton, Table Tennis, Yoga, Gymnasium, etc. The indoor hall space can be utilized for most of the indoor games and can be converted as per the local popularity of various indoor sports.