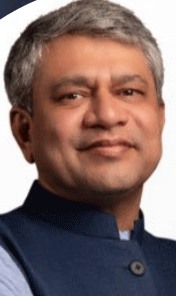 Puri: Positively responding to the demand of the State Government, Railway Minister Ashwini Vaishnaw on Thursday indicated that second Vande Bharat Express and the train in the state will run on Puri-Bhubaneswar-Cuttack-Angul-Rourkela route.
Shri Vaishnaw said this here at the flagging-off ceremony of Puri-Howrah Vande Bharat Express on Thursday.
"Today I seek blessings of Lord Jagnnath to start the second Vande Bharat Express on the route Puri-Bhubaneswar-Cuttak-Angul, Talcher-Rourkela," the Railway Minister said.
"After Vande Bharat, Vande Sleeper will be introduced and subsequently Vande Metro will be launched. Plan is there to introduce Vande Metro train on the Puri-Bhubaneswar-Cuttack route," he added.
Later, during his speech, Union Minister Dharmendra Pradhan urged his Cabinet colleague to consider extending the Vande Metro train service to Dhenkanal and Angul.
"I pray to Lord Jagannath to fulfill the plan. Along with Union Minister Dharmendra Pradhan, I will request Prime Minister Narendra Modi to give another Vande Bharat, and Vande Metro to Odisha," said Shri Vaishnaw.
Work is going on for the transformation of 57 railway stations in Odisha into world class stations. Odisha will now have world class railway, telecom, internet and highway connectivity, he said.
The Modi government has given around Rs 10,000 crore in the last two years for the development of railways in Odisha. Apart from Railway, the Telecom Department has also provided Rs 5,600 crore to improve connectivity in Odisha, he informed.
The Minister urged the State government to extend their cooperation to make Odisha the No.1 state in the field of railway, telecom, highway and i-way (internet) connectivity.