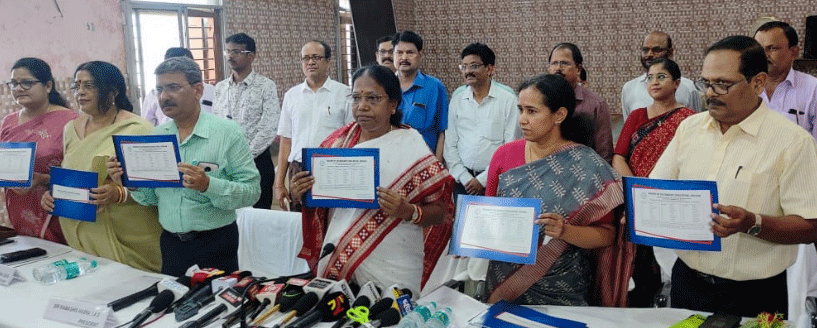 Bhubaneswar: Girl students continued to outshine boys this year too in Class-X Examination conducted by the Board of Secondary Education (BSE), Odisha, whose results were declared on Thursday.
School and Mass Education Minister Pramila Mallik declared the result in presence of Secretary S. Aswathy and other senior officials of BSE here.
As many as 5,12,460 of 5,21,444 students, who appeared for the examinations, passed. A total of 4158 students have passed with A1 grade, 29855 with A2 grade, 77762 with B1 grade, and 119120 with B2 grade.
Out of 5,16,435 regular students, 5,08,404 passed in the examination, of which 2,57,106 were girl students and 2,51,298 were boy students.
The total students' pass percentage stood at 96.40 compared to last year's 90.55 percent. This year, the pass rate for girls is 97.05 percent and the pass rate for boys is 95.75 percent, Mallik said.
As many as 4158 students got A1, 29,855 in A2 grade, 77,762 in B1, and 119,120 in B2, she said.
The Minister further informed that 1904 boys have scored 90 percent or above while 2254 girls have scored 90 percent or more. Similarly, among SC candidates, the pass percentage of boys is 93.36 percent and that of girls is 95.08 percent.
Furthermore, among ST candidates, the pass percentage of boys stands at 92.75 percent while the pass percentage of girls is 95.66 percent. In all categories, the girls outshined the boys.
The performance of students in Cuttack and Jagatsinghpur districts was the best, each scoring 97.99 percent pass percentage, while Malkangari district was at the bottom with 92.68 percent.
Of the total pass out, 2,58,827 students are female and 2,53,633 are male. So, this time too, more female students have cleared the exam than boys.
Similarly, a total of 3,627 candidates filled out forms for the intermediate examination. Out of them, 479 candidates were absent, while 3,117 passed in A1 grade, 14 in A2, 589 in B1, and 834 candidates passed in B2 with a pass rate of .85.94 percent.
The examination was held from March 10 to March 20, 2023 at 3218 centres across the state.