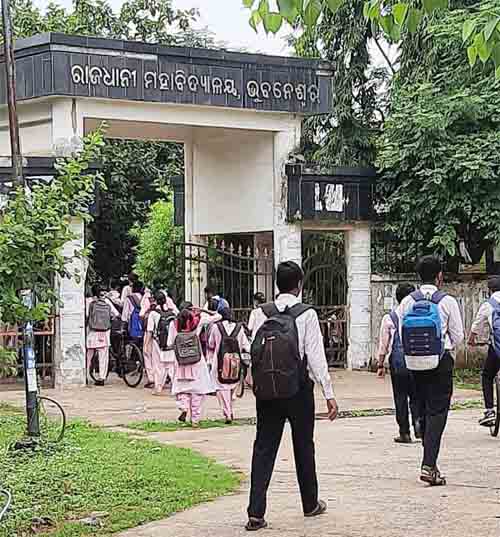 Bhubaneswar: As per earlier announcement, schools have been reopened in the State on Monday for classroom teaching of Classes X and XII students.
The schools reopened after almost a gap of three months due to the second wave of Covid-19 pandemic. Prior to reopening of the schools, the class rooms and other spaces have been sanitized and cleaned.
As per the instructions of the School and Mass Education Department, the physical classes conducted from 10 am to 1.30 pm in all schools except those located in containment zones and Kendrapara (due to the imposition of curfew). Students, wearing masks and having sanitizers in hand, were seen entering the schools with a smiley face.
Adequate soap and running water have been made available in all washrooms and toilets of the schools for hand washing. Hand sanitizers have been mandatorily kept for teachers, students and staff in each classroom.
Special seating arrangements have been done so that students can maintain social distancing while attending the classes.
"Physical teaching has no alternative. It's easier to understand any subject while doing physical classes than online. I am happy that after a gap of three months we will be able to attend class," said a Class IX student, Suresh.
Similarly, a girl student of Class X has also expressed happiness for reopening of the schools and arrangements made for them. "I am very happy because, after such a long time, I am entering my school and will meet my teachers and friends," she said.
Along with physical teaching, the ongoing online mode of teaching is also continued for all classes. The schools will remain closed on all Sundays and all holidays.
Earlier, the Government had issued a detailed SOP for resumption of the classes in adherence to the Covid-19 guidelines. Prior to reopening of schools, all the teachers will be vaccinated on priority basis and the District Education Officers (DEOs) have been instructed to ensure that all the Covid-19 protocols are strictly followed.
Moreover, the State Government is also planning to reopen the schools for Class IX and XI students from August 16 and September 15, respectively.
The classes for Class XI students will be held from September 15 after completion of admission into Plus II courses, he further informed.
Keeping the prevailing pandemic situation in mind, the Board of Secondary Education is for the first time going to implement a "Continuous and Comprehensive Evaluation System", in which four formative assessments and two summative assessments will be conducted for Classes IX and X.
Parents and students have been asked to take all class examinations seriously. If the pandemic situation deteriorates, evaluation would be done on the basis of these examinations.