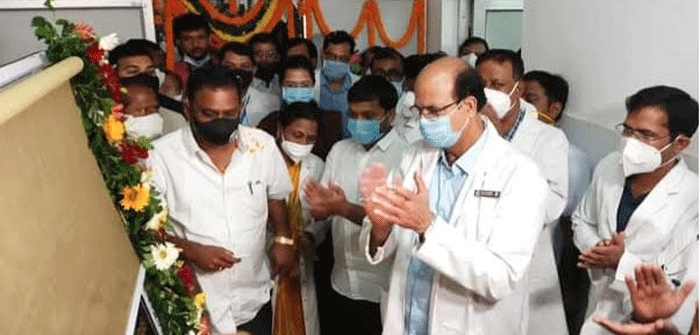 Cuttack: Health and Family Welfare Minister Naba Kishore Das on Monday inaugurated Liver Transplant OPD at SCB Medical College and Hospital.
The Liver Transplant OPD set up in Superspeciality block will continue to function weekly once on Monday.
With the opening of the OPD, the much-awaited liver transplant surgery is expected to start soon at the premier government run hospital of the state.
Bichitrananda Khatua of Rourkela was the first patient who resistered his name to undergo liver transplant surgery proposing his son as the donor towards providing the organ for the transplantation.
"As many as 16 patients have registered their name with SCB Liver Transplant OPD on the first day one. While three of them have donors, the remaining 13 who have no donors will have to depend upon cadaveric donors," said SCB Medical Emergency Officer Dr. Bhubananada Moharana.
Notably, the state government in 2013 had announced plans to start a liver transplant unit in SCB, a year after the kidney transplant unit started functioning in the government run hospital.
Accordingly, a sum of Rs.22 crore was sanctioned for setting up the Liver Transplant Surgery Unit in Trauma Unit building. However, authorities had not managed to make the unit functional in the last 8 years.
"Though the necessary infrastructures including a modular Operation Theater(OT) is yet to be set up at the Liver Transplant Surgery Unit, we have decided to go for the liver transplant surgery at Urology Department having modular OT facility," said Moharana adding that the liver transplant surgery will be conducted jointly by Gastroenterology Surgery Department and Hepatology Department.
Doctors, nurses and paramedical staffs have already undergone necessary training twice for liver transplant surgery, Dr.Moharana added.
Generally, a sum of Rs.25 to Rs.30 lakhs is required for Liver Transplant Surgery. As there was no such facility in Odisha, patients had to depend upon hospitals in outside states like Chennai, Kolkata, Hyderabad, Bangalore, New Delhi etc. incurring a lot of expenditure.
Minister Health & FW also inaugurated a Paediatric Allergy Clinic in Paediatric Casualty located at the backside of the Medicine Building.
"The paediatric allergy clinic will provide care for children and adolescents suffering from any aspect of allergic disease. We strive to deliver high quality holistic care in a child friendly environment," said Minister Mr. Das after inaugurating the clinic.
Mr.Das also inaugurated a public parking facility created to streamline traffic problems inside SCB MCH.