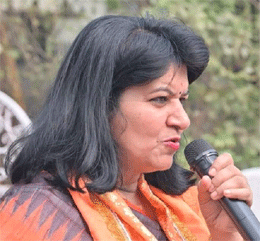 Bhubaneswar: Senior BJP leader and Bhubaneswar MP Aparajita Sarangi on Tuesday alleged that there were massive irregularities in auction of mines by the Odisha Government.     
Holding a press conference here, Shrimati Sarangi alleged that the State Government has already acknowledged occurrence of large-scale irregularities that led to the loss of thousands of crores of rupees to the exchequer.
She said that the State Government in a letter to the Ministry of Coal and Mines has admitted that leaseholders reported high-grade iron ore as low-grade after extraction.
Showing a letter she has received from Union Coal and Mines Minister Pralhad Joshi in this regard, the BJP National Spokesperson the State Government has constituted a committee under the chairmanship of the Director of Mines to investigate the irregularities.
"High-grade iron ore has been represented as low-grade. It resulted in a loss to the tune of thousands of crores to the state exchequer. As a result of the irregularities, an adequate amount of funds could not be transferred to the District Mineral Funds (DMFs)," alleged Sarangi.
The irregularity has also led to reduction of funding to National Mineral Exploration Trust (NMET), she said.
Though the State has informed the Centre that it has formed a panel to look into the issue, it has not mentioned what kind of preventive measures have been taken to improve the situation and what recommendations have been made by the committee, said Sarangi.
The measures and recommendations made by the committee should be brought to the public domain, Shrimati Sarangi demanded.
Asking who got the benefit from the corruption practices, the BJP MP urged the State Government to ensure that such corruption will not reoccur in future.
The State Government should also specify the magnitude of revenue loss due to reporting of high-grade iron ore as low-grade, she added.