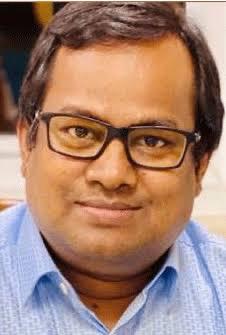 Bhubaneswar: Ace Mandarin  and a Noble Poet Bishnupada Sethi has been conferred with this year's State Level Santha Bhimaprabha Samman at a function organised by the Santha Kabi Bhima Bhoi Shitya Parishad at Sarala Bhawan in Cuttack yesterday.
This prestigious award has been conferred on Mr.Sethi for his literary creations, especially his captivating poems.
Mr.Sethi, serving as Principal Secretary to Government of Odisha, remained an ardent follower of Mahima Dharma, the philosophy, which the saint poet preached.
Mr.Sethi has published several books of his poetry collections including Where Shall I Go, My World of Words, Beyond Feelings and Beyond Here and Other Poems. The first one Where Shall I Go, published in 2005, became so popular that it was translated into Urdu and Odia.
Mr.Sethi has extended help for the development of Bhima Bhoi Samadhipitha Khaliapali in Sonepur district. His articles on the saint poet and his own poems speak volumes for his versatility as an author.
For this work, he has been awarded with the Bhima Bhoi Sruti Samman in 2018. Mr.Sethi had also received Bhima Bhoi Award for his contribution to popularize Mahima philosophy in Odisha.
When he was serving as Higher Education Secretary, the erudite IAS officer has decided to set up a Chair at Gangadhar Meher University (GMU) in Sambalpur, in the name of Bhima Bhoi to carry out interdisciplinary research in the area of social sciences including literary creations and 'Dalit' literature.
Even the UGC has introduced the life and works of Bhima Bhoi in the curriculum while various hospitals and institutions are being named after the legend.
Bhima Bhoi, a 19th Century poet and prophet of the Mahima religion, was born in western Odisha.
Not much is known about Bhima Bhoi, but he was by birth a Kondh and was born with abject poverty and was deprived of education and a decent living.
He spent his life in Redhakhol and Birmaharajpur in the later part of the 19th Century.
Bhima Bhoi's Mission was "Jagat Uddhara" (liberation of the entire world) and he believed in one God, one society and one religion. And Mr. Sethi is propelling this noble mission in letter and spirit.
Mr. Sethi is now serving as Principal Secretary School & Mass Education, Commerce & Transport, Information & Public Relations as well as Chairman of Odisha Hydro Power Corporation.