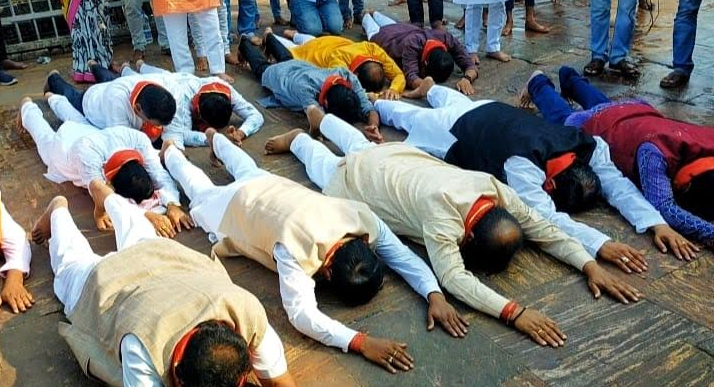 Bhubaneswar: Alleging that the decision of Speaker SN Patro to adjourn the winter session of Assembly sine die 20 days ahead of scheduled date is unconstitutional and undemocratic, the BJP lawmakers on Saturday submitted a memorandum to Governor Ganshi Lal at the Raj Bhawan
The BJP MLAs urged the Governor to direct the Speaker to show respect to the constitution and conduct the business of the House impartially. They also requested him to ask Chief Minister Naveen Patnaik to attend the State Assembly.
The Chief Minister, the BJP MLAs said, has been touring districts and addressing public meetings as well as party meetings but staying away from Assembly debate and discussions despite being the leader of the House.
The saffron party members also alleged that the Speaker was not maintaining impartiality in running the business of the House and depriving the opposition from the opportunity to discuss various issues concerning the interest of the people and the State.
According to Article 174 of the Constitution, 60 working days over three House sessions have been set aside to discuss matters of public interest, they said.
The party in its memorandum said that this was also mentioned in Section 11 of the rules of procedures and conduct of business in the Odisha Legislative Assembly.
The BJP said that in the last three years, the Assembly was convened for only eight sessions and the House conducted business for only 112 working days, instead of the stipulated nine sessions and 180 working days. The MLAs further said that it was disappointing that several House sessions were terminated before schedule.
Stating that the action of the Speaker has led to a constitutional crisis, the BJP MLAs urged the Governor to personally intervene and take appropriate action.
The winter session of the assembly which commenced on December 1 was adjourned 20 days ahead of scheduled sittings yesterday.
After meeting the Governor, the BJP lawmakers visited Jagannath temple in Puri and prayed before the Lords to give 'Sadbudhi' to the Chief Minister and take care of the State and its people.