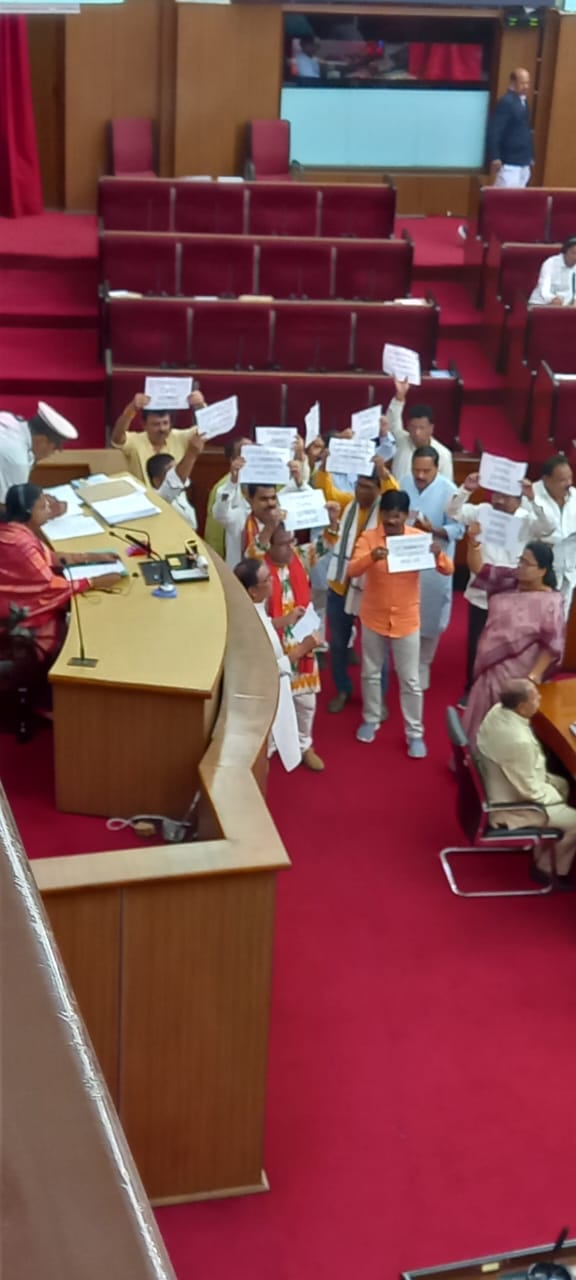 Bhubaneswar: Angry over suspension of its two members, Opposition BJP Lawmakers today created a ruckus in the State Legislative Assembly forcing Speaker Pramila Mallick to adjourn the House till 4 PM.
As soon as the House assembled for the day at 10.30 AM, the BJP Members trooped into the Well of the House and shouted slogans demanding the lifting of the suspension of two its Members and expunge of the derogatory remark made by Treasury Bench Member Arun Sahoo on the mental health of the Leader of Opposition Jayanarayan Mishra.
The Speaker on Thursday suspended two BJP MLAs— Mohan Charan Majhi and Mukesh Mahaling for the rest of the session after they allegedly threw pulses at the Speaker's podium.
The Assembly could not conduct the Question Hour, Zero Hour business and also could not take up the debate on the adjournment motion due to the protest by the BJP members.
Speaking to reporters outside the House, Leader of Opposition Jayanarayan Mishra said the ruling BJD does not want the Assembly to run and is deliberately adjourning the House.
Whenever any impasse prevails in the House, the Speaker convenes an all party meeting and try to resolve the deadlock. But the present Speaker is not doing it. However, the present Speaker is acting in the hands of the ruling BJD and not able to rise above the party politics, he alleged.
Earlier, speaking to media persons, Mohan Majhi has stated that he has not thrown any dal towards the Speaker and will write to the Speaker against her action.
On the other hand, Shri Mahaling has admitted it and he has offered some dal to the Speaker so that she can listen to their demands.
"We have been demanding expunge of one remark made against our LoP. But, the Speaker was neither listening to us nor conveyed an all party meet. As the Speaker liked dal when she was serving as Women and Child Development Minister, we have offered some dal to her so that she can hear us," the BJP MLA had told reporters on Thursday.
On the other hand, the Speaker clarified that the House was irked over their action and words and subsequently action was initiated as per the Constitutional norms.