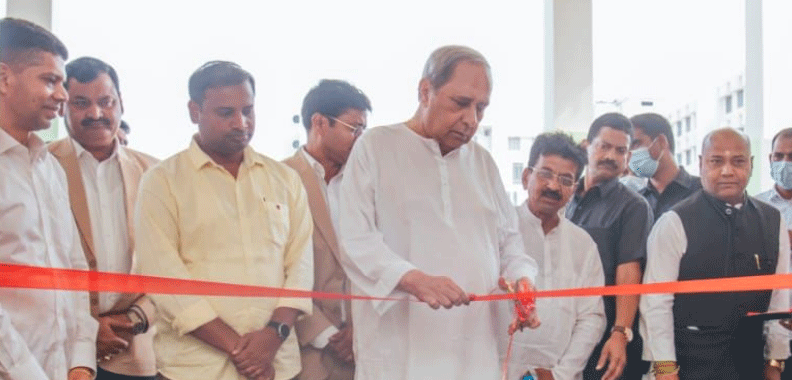 Rourkela :Ahead of FIH Odisha Hockey Men's World Cup 2023, Chief Minister Naveen Patnaik on Thursday inaugurated the world's largest seated Birsa Munda Hockey Stadium at Rourkela.  
Both the Stadium and the Hockey Practice Centre have been certified Level 1 by FIH which is the highest in its category. As a tribute, the stadium has been named after legendary tribal leader Birsa Munda. 
Shri Patnaik also inaugurated Hockey Training Centres in Sundargarh, Ganjam, Sambalpur, and Rourkela.
On this landmark occasion, Chief Minister Naveen Patnaik said, "It is a moment of great joy and celebration for Odisha. We are not only hosting the Hockey World Cup for the second consecutive time, but we have also built the world's largest hockey stadium in Rourkela."
"This is the new Odisha. I dedicate this to the people of Sundargarh and the hockey players of our nation. I welcome the global Hockey fraternity to come and experience its grandeur," he said.
In the coming years, the Birsa Munda Hockey Stadium will play a pivotal role in taking Indian Hockey to global heights, he said.
The Chief Minister also inaugurated the World Cup Village with 225 room that will house the teams of the upcoming World Cup. Taj has been roped in by Hockey India to offer impeccable service and hospitality that reflects the culture of Odisha.
On this occasion, Shri Patnaik spent some time with the National men's hockey team and announced award of Rs 1 crore for each Indian Hockey team player if they win the World Cup. He wished them all the best and hoped they will lift the cup.
Players praised the Odisha government and thanked the Chief Minister for developing a holistic ecosystem for hockey for the players of the nation.
President Hockey India Dilip Tirkey, Sports Minister, Odisha, Tusharkanti Behera, Secretary to CM VK Pandian, Sports Secretary R Vineel Krishna, and other government officials were present during the inauguration of the Birsa Munda Hockey Stadium.
Earlier in the day, he flagged off the Mo Bus service in Rourkela. A fleet of 25 buses were rolled out. City level development projects in Rourkela were also inaugurated.
Patnaik has also inaugurated Government Medical College & Hospital at Sundargarh, which has been built by NTPC at a cost of Rs. 417.77 crores out of its Resettlement and Rehabilitation Community Development Fund.
The Hockey World Cup will be played in Kalinga Stadium and Birsa Munda Stadium in Bhubaneswar and Rourkela respectively from January 13 to 29. 16 teams will compete with each other in the prestigious world tournament. While 24 matches will be played in Kalinga Stadium, Bhubaneswar, 20 matches will be held in Birsa Munda Stadium in Rourkela.