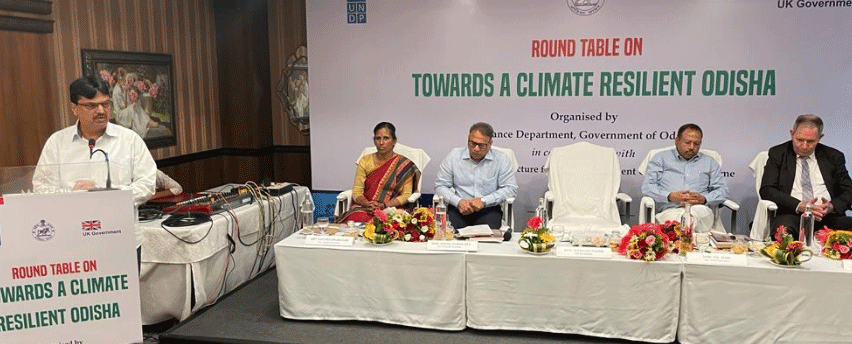 Bhubaneswar: Eminent experts lauded Odisha Government efforts for bringing Green Public Finance Management and Climate Budgeting.
In fact Odisha has taken lead among the Indian States to bring together experts and officials to design innovative climate friendly policies.
Government of Odisha in Department of Finance on Saturday organized a Round Table meeting on building climate resilient Odisha here at Hotel Mayfair. Finance Minister Niranjan Pujari inaugurated the event.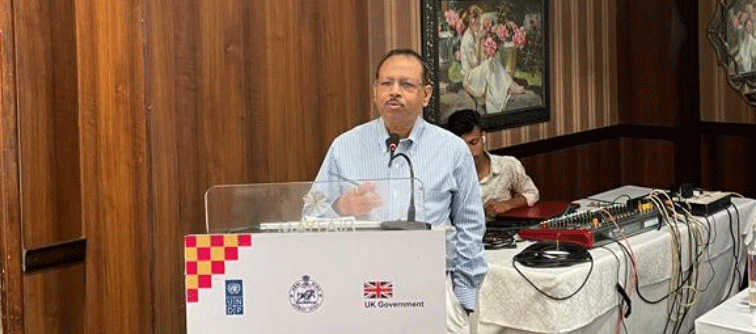 Chief Secretary Pradeep Kumar Jena graced the Round Table and addressed the Meeting.
The Round Table meeting was the first step to initiate a multi stakeholder dialogue among various departments, development partners and technical experts that will lead to clear recommendations about different institutional options and the governance framework.
Principal Secretary Vishal Kumar Dev delivered the keynote address.

Special Secretary Planning and Convergence, Chithra Arumgam, and Nick Low, British Deputy High Commissioner, East and North-East India, attended the meet.
The Department of Finance with support from the Foreign Commonwealth and Development Office (FCDO), Government of UK, Infrastructure for Climate Resilient Growth (ICRG) Program. The discussion during the round table will help the State Government in agreeing with basic principles to address climate change impacts and identifying key programs/initiatives (international, national, and state) that can be leveraged to deliver climate resilience locally for the most marginalized, officials said.
One of the outcomes could be-operationalization of the State Action Plan on Climate Change and setting up a Climate Governance and Information System, the officials said.
The Round Table meet was held to share lessons from the ICRG program that could help the implementation of Odisha's SAPCC more effectively. And also, draw lessons from other related projects of FCDO, UNDP WB and IMF.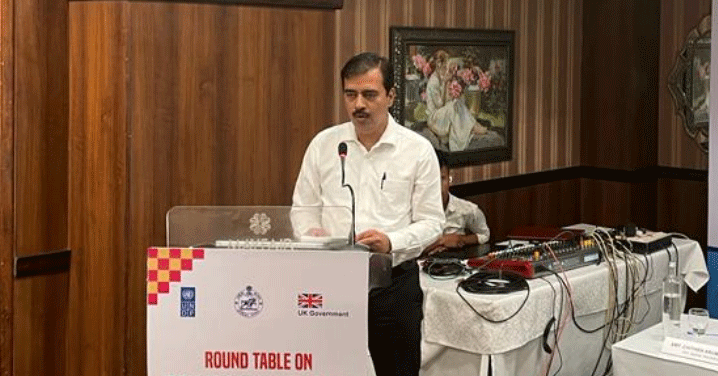 Satya Priya Rath, Additional Secretary Finance and Director State Budget coordinated the entire Round Table Meet.
Discussion was held on how the development schemes and programs of the Government, especially the social protection programs can be implemented in a way to increase the climate resilience of the poor in the State, they said.
It will also guide and agree on next steps in identifying and addressing the capacity gaps of the implementing agencies/departments to plan and design the schemes and programs to meet the outcomes defined in the SAPCC.
Odisha is highly vulnerable to climate change because of its location and geophysical conditions. The state, which is the pioneer in disaster management, has introduced many new initiatives while moving towards a climate resilient and low carbon future because of its clear vision and strong leadership of Chief Minister Naveen Patnaik.
It was one of the first states in India to produce a State Level Action Plan on Climate Change (SAPCC). The plan formulated by an inter departmental team, with civil society inputs, is a coordinated government response to tackle climate change impacts.
Eleven Sectoral Missions such as Agriculture, Coast and Disaster, Energy, Fisheries and Animal Resources, Forests, Health, Industries, Mining. Transport, Urban and water Resources were identified. The implementation of the activities is reviewed by a Monitoring and Advisory Committee of Climate Change Action Plan which is headed by the Chief Secretary.
Odisha is also one of the first states in India bringing together experts and officials to design innovative climate friendly policies like green Public Finance Management System (PFMS), climate budgeting etc.
It is realized that there is now an urgent need to operationalize all the initiatives by effective implementation of the State Action Plan for Climate Change (SAPCC), introducing locally led adaptation and mitigation practices and through adaptive social protection measures.
A Climate Change Cell has been set up in the Forest and Environment Department to closely coordinate all the recommended actions and also work towards resource mobilisation to implement different components of the action plan in a systematic and time bound manner.
Foreign Commonwealth and Development Office (FCDO), Government of UK, has partnered with the Government of Odisha since the 1980s to support inclusive sustainable development. This includes investments in public health, infrastructure, power sector reforms and sustainable climate resilient growth.
Presently, FCDO's Infrastructure for Climate Resilient Growth (ICRG) program provides Technical Assistance to the Ministry of Rural Development (MoRD), Government of India and 7 State Governments, including Odisha, to improve abilities of poor and vulnerable people to cope with climate change impacts.
Additionally, various development partners, private sector, civil society organisations are supporting the State Government in mainstreaming climate risk into budgeting, design, policy, and programming.
The projects supported by FCDO, UNDP. WB, IMF and other bilateral agencies will be discussed and ways to embed them in the institutionalization process will be further explored, the officials said.