Bhubaneswar: Ace Analyst of the Banking Sector, Rajib Sekhar Sahoo has lauded the move of Reserve Bank of India (RBI) to take Rs 2,000 notes out of circulation, only 7 years after they were first introduced.
Known for his impartial and mature opinion on financial sector, Shri Sahoo said the Government of India has been taking various steps including modification of existing laws to discourage cash transactions and encourage digital payment.
The Government had first discontinued the Rs 1000 notes and then stopped printing Rs 2,000 notes in 2019. And, now, this new move to completely remove Rs 2,000 notes from the market, he said.
The notes can be exchanged or deposited until September 30 and notes up to the value of Rs 20,000 can be exchanged at a time, Shri Shri Sahoo noted.
Due to this move, direct tax collection and GST collection will increase. Besides, financial transactions have been smoothened, he added.
People will benefit from it. Those people, who have black money, will face problems making transactions in a huge cash, the Top Financial Analyst said, adding, the some people, who have evaded tax and stored black money, will be hurt due to the move.
The RBI has said that starting from May 23, the notes can be exchanged at 19 regional offices of RBI and other bank branches. People can either exchange the withdrawn currency for notes of lower denomination or directly deposit them into their bank accounts. The notes can be exchanged or deposited until September 30, the Central Bank has said.
According to the RBI, the notes are not commonly used for transactions.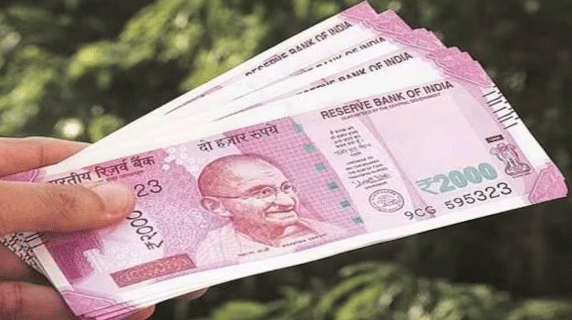 It said that the number of Rs 2,000 notes in transaction has declined from its peak value of Rs 6.73 lakh crore in March 2018, constituting 37.3 per cent notes in circulation back then to Rs 3.62 lakh crore in March 2023, which is only 10.8 per cent of notes in circulation.
About 89 per cent of Rs 2,000 notes were issued before March 2017, completing a life cycle of 4-5 years, the central bank said in its statement.
The RBI also said that notes in other denominations are adequate to meet the requirements of the public.
Unlike the demonetisation, when notes of denomination Rs 500 and Rs 1,000 ceased to be legal tender, the current decision will not stop Rs 2000 from being used in transactions.
The RBI issued the majority of the Rs 2000 denomination notes prior to March 2017; these notes are now at the end of their estimated lifespan of 4-5 years. This denomination is no longer commonly used for transactions; besides, there is adequate stock of banknotes in other denominations to meet currency requirements.
"In view of the above, and in pursuance of the 'Clean Note Policy' of the Reserve Bank of India, it has been decided to withdraw the Rs 2000 denomination banknotes from circulation," the RBI said.
The Clean Note Policy seeks to give the public good-quality currency notes and coins with better security features, while soiled notes are withdrawn out of circulation. The RBI had earlier decided to withdraw from circulation all banknotes issued prior to 2005 as they have fewer security features as compared to banknotes printed after 2005.
However, the notes issued before 2005 continue to be legal tender. They have only been withdrawn from circulation in conformity with the standard international practice of not having notes of multiple series in circulation at the same time.
The Rs 2000 banknote will continue to maintain its legal tender status, the RBI has said. Members of the public can continue to use Rs 2000 banknotes for their transactions and also receive them in payment. "However, they are encouraged to deposit and/ or exchange these banknotes on or before September 30, 2023," the RBI said.