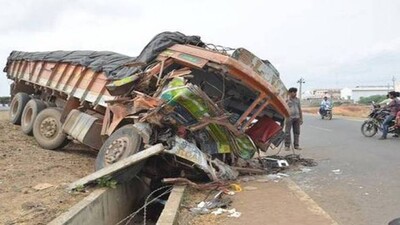 Bhubaneswar: Road mishap fatality has increased by 27.60 per cent in the State during January to April of this year compared to the same period of 2020.
According to sources in the Department of Commerce and Transport , 4095 road mishaps with 1877 deaths have occurred during January to April of 2021 whereas 3112 mishaps and 1471 deaths reported during the first four months of 2020, thereby increasing the fatality rate by 27.60 per cent.
Highest 133 road accident deaths reported in Sundergarh district, followed by Ganjam (132), Nabarangpur (130), Keonjhar (124), Khurda (105) and Jajpur (102). All remaining districts recorded below 100 deaths. Not a single district has reported a single digit death figure during the four months of 2021, sources said.
Except for four districts—Deogarh, Ganjam, Puri and Sonepur—there has been an increase in fatalities in all the Districts in the State.
Expressing concern over the high fatality rate, Commerce and Transport Principal Secretary Madhu Sudan Padhi has asked concerned Collectors to submit a report on why the fatalities have increased abnormally.
The Supreme Court appointed Committee on Road Safety had directed to reduce road accident fatalities by 50 per cent by 2020 in a period of five years for the state of Odisha.
However, there has been a steady increase in the number of fatalities from 2014 (3931) to 2019(4738), an increase of about 21 per cent during the period for which the Committee has expressed their concern, Padhi told the DMs.
The Principal Secretary advised the Collectors to hold meetings of the District Road Safety Committee (DRSC) regularly and submit its proceedings to the Transport Commissioner.
The Collectors have been asked to conduct stringent enforcement against helmet law violation as about 40 per cent of the persons killed are two wheeler riders.
They have been further directed to ensure joint inspection by the technical team to the spots where fatal and grievous injury accidents occurred.
To control the traffic violation in the NHs, highway patrol has been introduced in 19 mini stretches with dedicated patrol vehicles and staff.