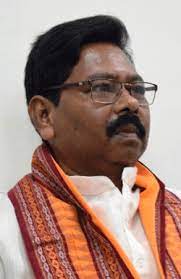 New Delhi: The Registrar General of India (RGI) has rejected the State Government's proposal for inclusion of 'Jhodia' in the Scheduled Tribes list of Odisha, Union MoS for Tribal Affairs, Bishweswar Tudu told Lok Sabha on Monday.
In a written reply to the question of Congress MP from Koraput Saptagiri Sankar Ulaka, MoS Tudu said, "The proposal of the State Government of Odisha to include 'Jhodia' as synonym of 'Paroja' in the Scheduled Tribes list of Odisha has not been supported by the RGI twice. Hence the same was not considered by the Government and communicated to the State Government of Odisha."
The Union Government on June 15, 1999 (further amended on June 25, 2002) has laid down the modalities for deciding the claims for inclusion in, exclusion from and other modifications in Orders specifying Scheduled Castes (SCs) and Scheduled Tribes (STs) lists, he said.
As per the modalities, only those proposals which have been recommended and justified by the concerned State Government /UT Administration and concurred with by RGI and National Commission for Scheduled Tribes (NCST) are to be considered and legislation amended.
In terms of Clause (f) of the approved modalities, claims recommended by the concerned State Governments/Union Territory administrations, but not agreed to by the RGI, concerned State Government/ UT Administration would be asked to review and further justify their recommendations in the light of comments of RGI.
On receipt of the further clarification from the State Government, the proposal would again be referred to the RGI for comment, he said.
In such cases, where the RGI does not agree to the point of view of the State Government on a second reference, the Government of India may consider rejection of the said proposals, the Union Minister said while describing why the Centre has rejected the plea of State.
However, all actions are taken as per the approved modalities in respect of inclusion of 'Dora'community in the list, MoS Tudu said.
The Jhodia community in Kashipur Block of Rayagada district has been struggling to get ST status for more than two decades.
The Jhodia community has knocked the doors of everybody. In a protest, they boycotted the general elections in 2009 and as well as Panchayati Raj
elections in 2012.
According to sources, the population of Jhodia tribe is around 1 lakh, who had the tribal status and were getting all Government benefits till 1997, after which, they had been deprived of the ST status thereby not availing caste certificates from the competent authorities.
After continuous struggle, the State Government had written letters to the Centre for inclusion of the community in the ST list.