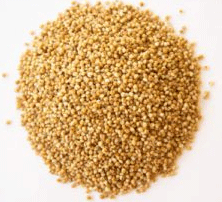 While Union Government is appreciating efforts of Odisha Millet Mission (OMM), NITI Aayog has advised the State Governments to implement such Missions in the States.In fact NITI Aayog ias encouraging other States to replicate OMM, which has received recognition at National Level.

Odisha Government has launched Special Program for Promotion of Millets in Tribal Areas of the State.
 Millets, a nutritious and climate-resilient crop, have traditionally been cultivated and consumed by tribal communities in the rainfed regions of southern Odisha.

This program is managed by District Project Management Units in OMM Districts and is monitored by State Program management Unit, said sources.

OMM is a unique project focuses on improved production of Nutri-Cereals, local consumption, procurement under MSP and distribution through PDS.

OMM is being implemented in 76 Blocks covering 14 Districts through Community Based Organization and facilitated by NGOs.

A recent review of OMM shows that improved agronomic practices were followed by more than one lakh farmers covering an area of more than 45,500 Hectares by end of September.

State Government has procured nearly 95000 Quintals of Ragi through TDCCOL from more than 20,000 farmers in the above districts at the rate of Rs.3150 Per Quitnal in Kharif Season.

Under State Nutrition Program @1KG of Ragi per Ration Card Holder was supplied to more than 16 Lakh Beneficiaries for one month in Seven Districts as supplement out of the Kharif Season Procurement.

Ragi Laddu is being supplied to the Pre-School Children going to Angawanwadi Centers.

More than 86,000 children of 13 Blocks of keonjhar District were covered under the program since July, 2020.
Similarly 3500 children of Hemagiri Block in Sundergarh District have been covered since August, 2020.
It has been decided that 143 Millet processing Machinery will be supplied to Self Help Group, Farmer Producer Organization(FPO) and others accordingly MOU with Mission Shakti has been approved, officials say.

Convergence with Mission Shakti, OMBADC OLM and DMF is in process, which will boost the program, an official said.
More recently recommended by Niti Aayog and the National Food Security Mission (NFSM), implementation of the program is likely to be replicated in other states, officials say