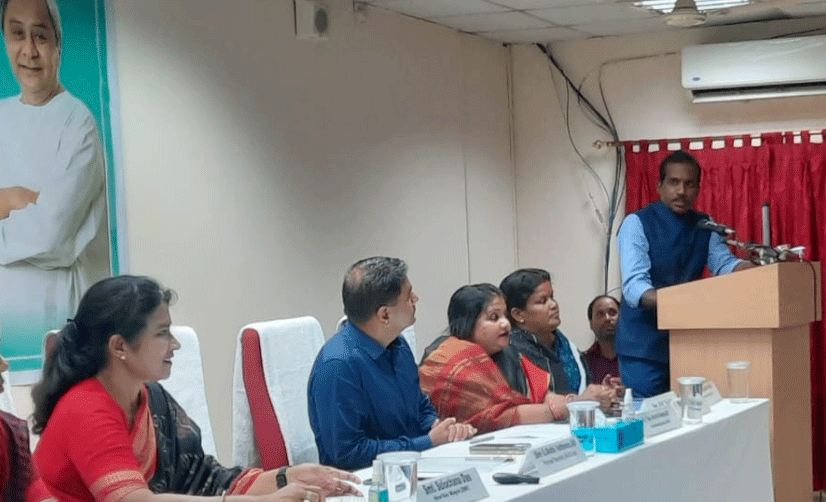 Bhubaneswar: Odisha Government has taken initiatives to rejuvenate water bodies in the state in more natural way by adopting sustainable and long-lasting solutions.
This intervention will help to check pollution at the source level, conserve storm water, increase ground water recharge, improve catchment area and will address water scarcity and flood issue in long run.
In the pilot stage, it is proposed to revive the drain & lake no-10 located at ward number 36 near Nicco Park, Bhubaneswar at a budgeted cost of around Rs. 1.85 crore. The entire project will be executed by 16 Mission Shakti SHGs of Ward no- 28, 35 & 36 under MUKTA program.
An orientation program was organized today for the selected MS-SHGs, Cooperators of the selected wards, Nodal Engineers of BMC, Community Organizers (COs), Zonal Community Organizers (ZCO), Ward Officer and City Mission Managers (CMMs) of concerned area.
Speaking on the occasion Mayor Sulochana Das told that the role and importance of MSGs is increased day by day and the present initiative on renovation is another opportunity for our women to strengthen their base of partnership with Govt. Team BMC will extend all support to MSGs , she added.
Principal Secretary Housing & Urban Development G Mathi Vathanan in his key note address said that Odisha is globally appreciated for coming up with model interventions like FSTP, MUKTA, JAGA Mission. He categorically emphasized upon the fact that that we need to convert this renovation of lake initiative by MSGs into a global model as this initiative is the first of its kind in the State. It would be only possible by the MSHs , not by any other agency.
Commissioner, BMC Vijay Amrut Kulange in his brief address said that all technical support shall be provided to MSGs at the field level and through this rejuvenation initiative, effort shall made to transform BMC into a role model for other ULBs
At the outset Sarada Prasad Panda , Director SUDA while welcoming all participants and key officials to the orientation programme reiterated that Government of Odisha has systematically allocated sufficient funds i.e 700 crores for 22 – 23 and embarked on a path of empowering women through engagement in various livelihood focused activities. The present initiative on renovation of lake is another such case of showcasing its commitment of empowering women towards sustainable livelihood .
Among others MS-SHGs, Cooperators of the selected wards, Nodal Engineers of BMC, Community Organizers (COs), Zonal Community Organizers (ZCO), Ward Officer and City Mission Managers (CMMs) of concerned area and other Officials attended the orientation program held in the Conference Hall of State Urban Development Agency