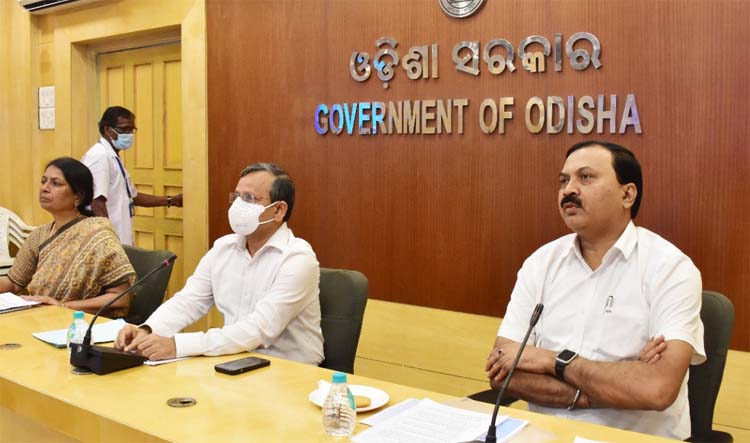 Bhubaneswar: Odisha Government has geared up its administrative macinaries and is fully prepared for the monsoon season.
Chairing a meeting of senior officials, Chief Secretary S C Mahapatra discussed preparedness and response in the wake of a natural disaster.
Additional Chief Secretary (ACS) Revenue and Disaster Management Satyabrata Sahu, ACS Forest and Environment Mona Sharma, ACS Water Resources Department Anu Garg, and senior officials of Navy, Army, Coast Guard and Indian Meteorological Department participated in the meeting.
Mr.Sahu who is also handling charges of Special Relief Commissioner and Managing Director Odisha Disaster Management Authority (OSDMA) outlined the details.
Mr.Mahapatra directed the concerned departments to be prepared for the work of providing proper advice and information, protecting and transporting the grain collected in the grain market. The departments were also asked to keep the field officers and staff alert accordingly.
The discussion of the meeting revealed that the storm forecasting and early warning information transmission infrastructure has been improved in Odisha.
As the telephone and power supply systems in cyclone are severely damaged, Mr.Mahapatra directed that mobile telecom towers, satellite phone generators, power poles, conductors, substations, and a sufficient number of human resources should be prepared for immediate deployment as needed.
Apart from this, he ordered to keep the hand pumps in the villages and urban areas functional and make full preparations to make the drinking water supply system functional in case of a storm.
Department of Women and Child Development was asked to continue the cyclone preparedness awareness program in the cyclone-prone coastal villages and to prepare a list of the imminent delivery, the elderly, the disabled, the destitute.
Restoration of immediate access facilities, repair of roads and embankments, protection of salinity dams during storms, potable water, urban storm water drainage, alternative power systems in hospitals, food supply, provision of food and sanitation with contingency plans, and human resources to farmers were discussed at the meeting.
The IMD provides district and region-wise weather information and a storm impact-based forecast system has been developed.
Doppler Weather Radar Stations at Gopalpur and Paradeep and High Wind Speed Recorders have been installed at Balasore, Chandbali, Puri, Bhubaneswar, Gopalpur and Paradeep which can also work in windy conditions.
All these modern infrastructures help in weather forecasting as well as monitoring the condition.
Regional Director of Indian Meteorological Department HR Biswas said that though Odisha's current climate is suitable for storms, there is no indication of a storm in the next 15 days.
Notably, Odisha's geographical position and climate are always prone to floods and storms due to the return of the South West Monsoon, especially in the months of October and November, officials say.