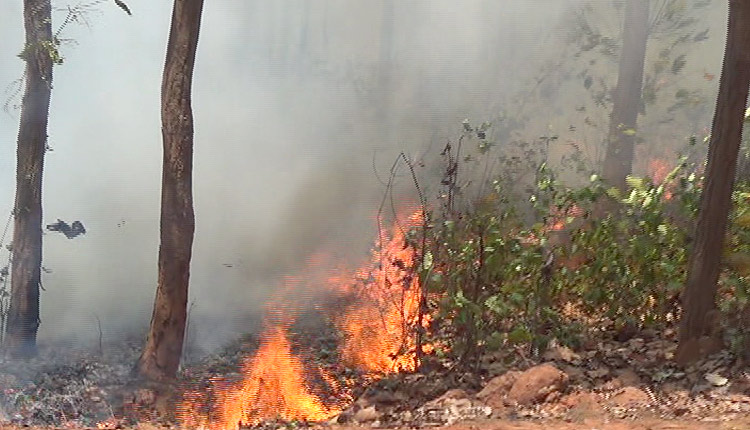 Bhubaneswar: Odisha Government on Friday claimed that two days of rain in parts of the State has brought down the forest fire alerts even as the two-member team of experts from the Centre camped in Similipal.
The office of the Principal Chief Conservator of Forest (PCCF), quoting Forest Survey of India (FSI), said the state registered 700 fire alerts on Friday with only 9 alerts in Similipal as against 1048 forest alerts on Thursday.
Since parts of the state, including Similipal experienced rain, it would help stop further spread of fire, it added.
While the government has asked all field officials to be on full alert to prevent any proliferation of fire in the field, the daily forest fire points generated using MODIS & SNPP satellite data received from FSI by Forest IT & Geomatic Centre (FITGC) are being made available real time upto beat level.
After navigating the fire points and dousing fire, the Forest staff have been asked to upload the info with photos in OFMS. Till now, more than 95% of all the fire points
have been addressed in the field.
Besides, the Forest Fire Cell in PCCF/PCCF WL and all DFOs is functioning 24X7. The toll-free number of PCCF Office Fire Cell is 1800-3457-158.
The Central team comprising Amit Mallick, inspector general of forests, National Tiger Conservation Authority (NTCA), New Delhi and Subrat Mahapatra, Deputy Director General, Ministry of Environment and Forest Regional Office, Bhubaneswar are camping inside Similipal forest.
Further step will be decided after their return from field, the PCCF release stated.
The release from the PCCF's office said that the DFOs have been directed to enhance community engagement with assistance of PRIs and Self Help Groups.
A series of meetings for awareness among local communities involving 2718 VSS have been conducted.
Incentives to about 3000 VSS for their active role in control of fire has been provided.
Now 8 ODRAF teams with 25 members are dousing forest fire along with forest staff all over the State.