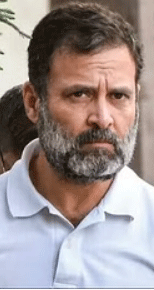 Bhubaneswar: Opposition Congress Lawmakers created a din in Odisha Legilsative Assembly raising the issue of disqualification of Rahul Gandhi's Membership from Lok Sabha.
The Congress Members rushed into Well of the House as soon as it assembled for the post lunch session at 4 PM. They shouted anti-BJP slogans and demanded justice for Shri Gandhi.
Shri Gandhi has been disqualified from Lok Sabha on being convicted in a defamation case.
Looking at the situation, Speaker Bikram Kesari Arukha first adjourned the proceedings for 20 minutes and thrice again for 30 minutes each as protests continued every time it reassembled.
Congress Legislature PartyLleader Narasingha Mishra told Media outside the House that Rahul Gandhi was a "victim of a deep rooted conspiracy".
"There is no democracy in the country now," he said adding that Rahul Gandhi will move the higher court for relief.
Congress Chief Whip Taraprasad Bahinipati said Rahul Gandhi is targeted as he exposed the BJP government. "He is kept out of Parliament as BJP fears that he will expose them more," he said.
Leader of Opposition Jaynarayan Mishra of BJP said Shri Gandhi was convicted in a Court of Law. "There is provision in law that anyone getting convicted with an imprisonment term for two or more years will lose his/her membership. Is Rahul Gandhi above Law?, asked Saffron Veteran.
The Governing BJD said as Gandhi was convicted by a court of law, "Let law take its own course".
"Both BJP and the Congress are same for us. Therefore, we will not like to comment on the matter," Revenue and Disaster Management Minister Pramila Mallick said.
Treasury Bench Member Bhupinder Singh, however, described Shri Gandhi's disqualification as "Unfortunate".
When the Odisha Assembly reassembled, the Leader of Opposition said since Rahul Gandhi is not a Member of the House, Congress Members have no right to stall its proceeding. At this there was a heated exchange of words between Congress and BJP Lawmakers.
The CLP leader said the party's Cuttack MLA was convicted in a case. However, he did not lose membership because of the liberal attitude of the State Government and Speaker. He was given time to appeal in a Higher Court.
"This is democracy. In Rahul Gandhi case, it is illegal to disqualify his membership as a Parliamentarian," Shri Mishra pointed out.
He said that Shri Gandhi has not said anything against any particular person for which he can be defamed.
Outside the House Congress workers organized demonstration and burned effigy of PM.