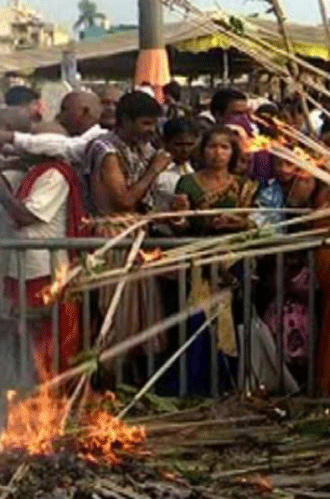 Puri: Like the past two years, the Puri District Administration has once again restricted the lighting of Kaunriya Kathis(Jute Stick)s in front of Singhadwar of Jagannath Temple during Diwali.
The District Administration has taken this decision to prevent air pollution caused by the smoke that emanates from the burning of the jute sticks which could possibly aggravate the Covid-19 situation.
Puri Sub-Collector Bhabataran Sahu said that the lighting of Kaunriya Kathis has been prohibited as the smoke emanating from the burning of the jute sticks is likely to worsen the pandemic situation.
The Jagannath temple will remain closed for devotees on Diwali. Prohibitory orders under Section 144 under CrPC will be imposed around the temple premises, he said.
Usually, on the occasion of Diwali, people in Odisha observe 'Bada Badia Daka' to pay obeisance to their ancestors. Hundreds of people gather around Srimandir on the evening of Diwali and perform Paya Sradha and light Kaunriya Kathi.
The burning of jute sticks is accompanied by a prayer 'Badabadua Ho Andhaare Aasa, Aalua Re Jao (Ancestors come in darkness and go back along the lighted path).
Besides, people also offer Paya Shraddha and light jute sticks with the belief that spirits of our forefathers who visit the earth on Mahalaya may return to their heavenly abode with lights on Diwali.
Meanwhile, the new guidelines on the entry of Puri town residents into the shrine have come to effect from today.
As per the decision taken by the Shree Jagannath Temple Administration (SJTA), the Puri town citizens with double dose vaccine certificate or RT-PCR negative report can enter Jagannath temple without standing in queues to have the darshan of the deities.
They can enter the temple at the Vyaghra Dwar and exit through North Gate (Hasti Dwar) showing their identity and residence proof.
Usually in the month of Kartik, the Puri citizens visit the temple every day morning and evening to have darshan of Lord Jagannath and offer puja. Due to the prevailing restrictions, they are facing difficulty in visiting the temple regularly. So this move will help them, sources said.