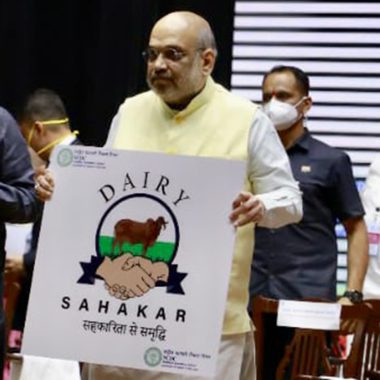 New Delhi: In a bid aimed at realizing Prime Minister Narendra Modi's vision of 'from cooperation to prosperity', Union Minister of Cooperation Amit Shah and Union Minister for Fisheries, Animal Husbandry and Dairying Parshottam Rupala have jointly launched 'Dairy Sahakar,' a scheme envisaging investment of Rs 5,000 crore with a focus on encouraging cooperative dairy businesses in the country.
This is for the first time; a comprehensive scheme exclusively for cooperatives related to all aspects of dairy business has been framed by the National Cooperative Development Corporation (NCDC) in partnership with Animal Husbandry and Dairy Department of the Government of India.
Before launching the scheme, Shri Shah at an event held in Gujarat's Anand to celebrate the milk dairy cooperative giant Amul's 75th foundation year, said that dairy sector and cooperatives have a major role to turn India not only into a USD 5-trillion economy but also help making the agriculture and allied sectorsatmanirbhar (self-reliant).
"We need to implement this cooperative model to empower sectors like agriculture and animal husbandry, and, NCDC's 5000 Crore Rs Dairy Sahakar is a step towards that" Shah said, adding that thatAmul was founded began as a cooperative movement in 1946 in Anand under the guidance of Sardar Vallabhbhai Patel and cooperative leader Tribhuvandas Patel. Shah said Amul was a model for the world.
Shri Rupala echoed similar views and appreciated how Amul had helped in boosting the economy of the State particularly those living in rural areas. "Dairy is one of the biggest agri-businesses in India and a significant contributor to Indian economy," said the Minister as he appreciated the NCDC, a mega financing organization for cooperatives under the Union Ministry of Cooperation, for framing the Dairy Sahakar scheme.
"This Dairy Sahakar will supplement the existing efforts for strengthening the dairy sector in the country. This is a first ever and the only dairy focused comprehensive framework from NCDC leveraging different available schemes of the Union Government," Shri Rupala said in his speech in Gujarati.
"Under Dairy Sahakar, NCDC has earmarked Rs. 5,000 crore and would be bolstered further with convergence from other Central Government Ministries like Animal Husbandry and Dairy. The scheme will provide critical credit linkage for different types of business by cooperatives," NCDC Managing Director Sundeep K Nayak said in fluent Gujarati while introducing the main features of the scheme at the event.
Shri Nayak informed that various central schemes will alsobe converged with that of state governments, Union Territory administrationsdevelopment agencies and others for the benefit of the beneficiaries.
Period of loan will be for 5-10 years, including 1-2 years of moratorium on repayment of principal, depending on the type of project and revenue streams. The scheme will initially be implemented from 2021-22 to 2025-26 for a period of five years, Shri Nayak said.
There is no minimum or maximum limit on financial assistance to projects by eligible cooperatives, he added.
The event was attended by Bhupendrabhai Patel, Chief Minister of Gujarat, BL Verma, Minister of State for Cooperation, Government of India, Devusinh Chauhan, Minister of State for Communications, Government of India, Atul Chaturvedi, Secretary, Department of Animal Husbandry and Dairying, Government of India.
Besides, Devendra Kumar Singh, Secretary, Ministry of Cooperation, Government of India, Sanjay Agarwal, Secretary, Department of Agriculture and Farmers Welfare, Government of India, elected representatives and other high dignitaries of the Gujarat Government and Amul were among others who were present on the occasion.