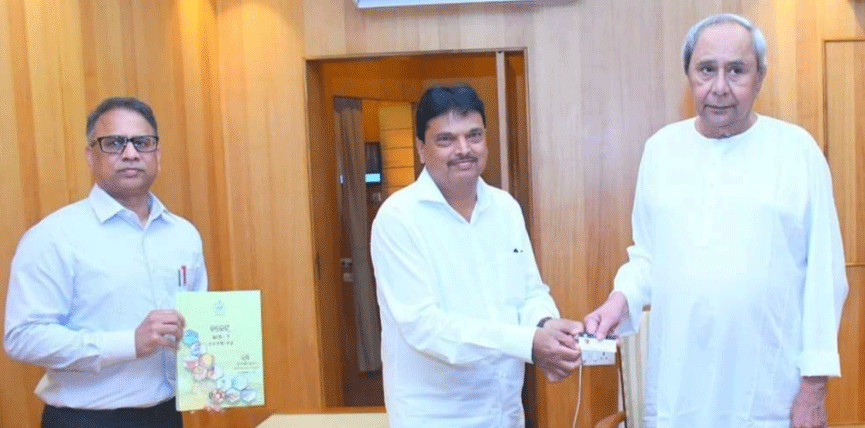 Bhubaneswar: Eying for 2024 General and Assembly elections, Finance Minister Niranjan Pujari on Friday presented a people-centric Annual Budget with a highest ever outlay of Rs. 2.30 lakh crore for the year 2023-24 in the Odisha Legislative Assembly. 
This outlay is 15 per cent more than the full-fledged budget of Rs.2 lakh crore for 2022-23.
Shri Pujari said the Program Budget has been increased by 35 times from Rs.3,538 crore in 2000-01 to Rs.1,25,000 crore in 2023-24 Budget Estimates. The allocation for the Program Expenditure is about 54 percent of the total budgetary outlay.
Similarly, Capital Outlay has gone up by more than 60 times from Rs.834 crore to Rs.51,683 crore during the same period, he said.
The Administrative Expenditure proposed at Rs.94,000 crore in 2023-24, which includes Rs.32,449 crore for salaries, Rs.19,967 crore for pension, Rs.7,241 crore for interest payment and Rs.13,464 crore for maintenance of capital assets.
The outlay for Disaster Response Funds will be Rs.3,700 crore, while Transfers from State will have an outlay of Rs.7,300 crore.
"We propose to transfer about Rs.3,132 crore on the basis of the recommendations of15th Finance Commission and around Rs.4,052 crore on the recommendations of the 5th State Finance Commission to the rural and urban local bodies of the State," said Pujari.
The Capital Outlay in 2023-24 is Rs.51,683 crore, which is about 6 per cent of GSDP. Additionally, loans and advances, grants for creation of capital assets and other expenditure for capital formation together account for Rs.12,421 crore, which is 1.4 per cent of GSDP.
The Finance Minister has said that the budget allocation is proposed to be financed through revenue receipts of Rs.1,84,500 crore and borrowing and other receipts of Rs.45,500 crore.
Giving details of revenue receipts for the year 2023-24, he said State's share in Central taxes is proposed to be Rs.46,251 crore, while Rs.53,000 crore expected from State's own tax, Rs.52,500 crore from own non-tax revenue and Rs.32,749 crore grants from Centre.
This budget focuses on achieving rapid and inclusive growth through development of human resources, investment in physical and social infrastructure, health care for all, provision of social safety nets for the disadvantaged and vulnerable sections and empowerment of youth, women, Scheduled Tribes, Scheduled Castes, Other Backward Classes, Minorities, persons with disability and the senior citizens, he pointed out.
"When Chief Minister took over the reins of the state in 2000, Odisha was in such a severe financial crisis that it was unable to even pay salaries and pensions regularly. Today, two decades later, we are amongst the very few states that are revenue surplus and capable of large-scale investments in people-centric and growth- oriented programmes," Pujari said.
This transformation has been possible due to a futuristic and people-oriented model of governance combined with the vision of our beloved Chief Minister towards making Odisha a developed State, he said.
"Our efforts in fiscal prudence have been recognized and we were adjudged as the No.1 State in fiscal management, as per the Care Edge States' Ranking report, January, 2023," said the Finance Minister.
Before presenting Annual Budget, Shri Pujari presented the Soft Copy of Budget to Chief Minister Naveen Patnaik. Principal Secretary Finance Vishal Dev was present during the Presentation of Soft Copy.